Mistral Solid Surfaces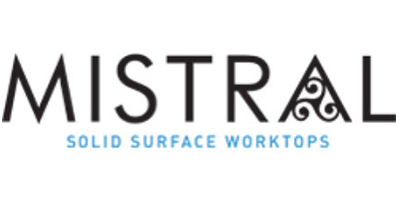 A worktop range that gives you the look of natural stone with the day-to-day benefits, design flexibility and great value of our enhanced acrylic solid surface.
Mistral gives you the colour, shape and style you want without compromise. Mistral worksurfaces are manufactured from a surfacing material composed of an enhanced acrylic-based resin compound and natural mineral. Mistral is made entirely of solid surface acrylic material which allows it to be angled and curved to fit your design effortlessly and to create unique features and bring your ideas to life.
The solid surface material is smooth and non-porous so it is inherently hygienic and resistant to staining without needing to be sealed.
Mistral is a strong and durable surface and will cope well with the rigours of day to day use in the home. It also has good levels of chemical and heat resistance and the non porous surface does not allow stains to penetrate. Any spills can simply be wiped clean with a cloth and soapy water, or with the assistance of a general household cleaner for more stubborn substances.