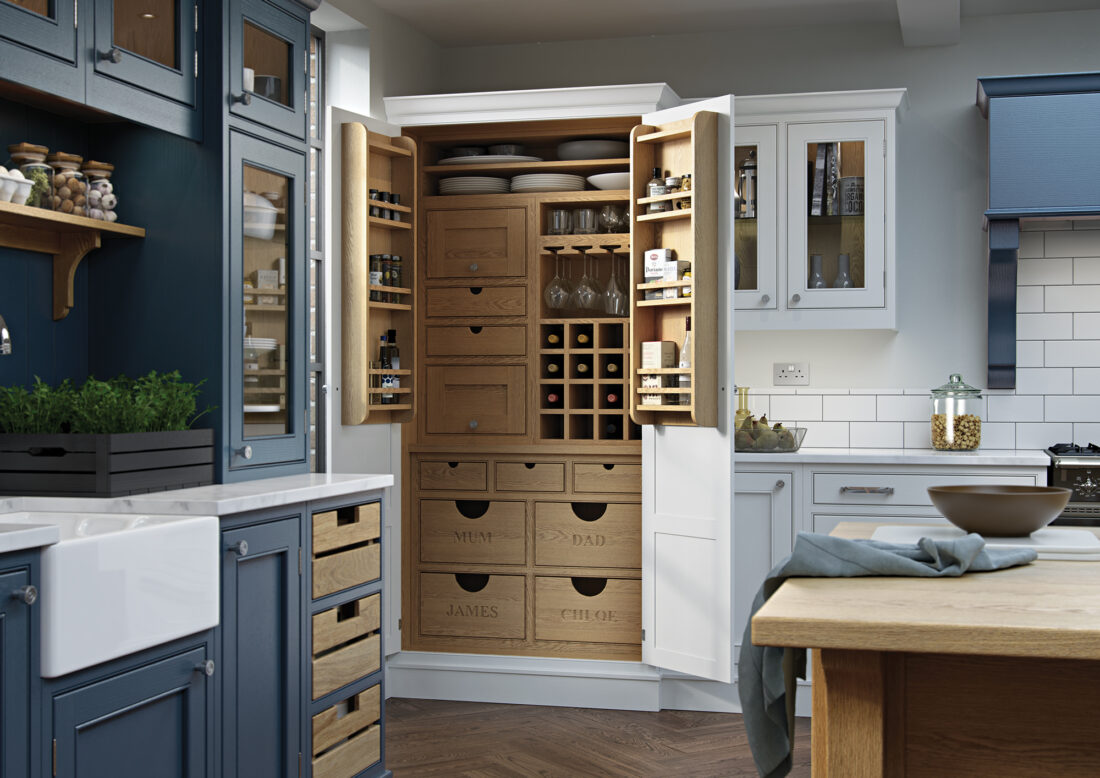 The Perfect Pantry
Equal in beauty and practicality, the pantry is a timeless feature with an abundance of functional possibilities.
From housing your cooking staples, to creating the perfect coffee station- this blog post will look at the different uses of a kitchen pantry, so you can decide how to make the most of this versatile kitchen feature, to suit your lifestyle and tastes.
Why is it such a sought after feature?
The humble pantry is a cupboard with a difference- creating a style statement whilst holding an abundance of practical value.
'Pantry' is believed to have originated from the French word 'pan,' meaning bread, as the large cupboard was originally used as a cool, dark place to store perishable foods. Now, thanks to the 'Downton Abbey' effect, the pantry has once again become a desirable kitchen feature, as people strive to have an authentic, traditional kitchen that is both practical and aesthetically pleasing, at the heart of their homes.
With an array of tailoring options available, including combination shelving, dovetail drawers, bi-folding doors, integrated chopping boards and spice racks, it's easier than ever to design a pantry to fit your unique shape and style. Creating and integrating your storage solutions can make your kitchen look bigger.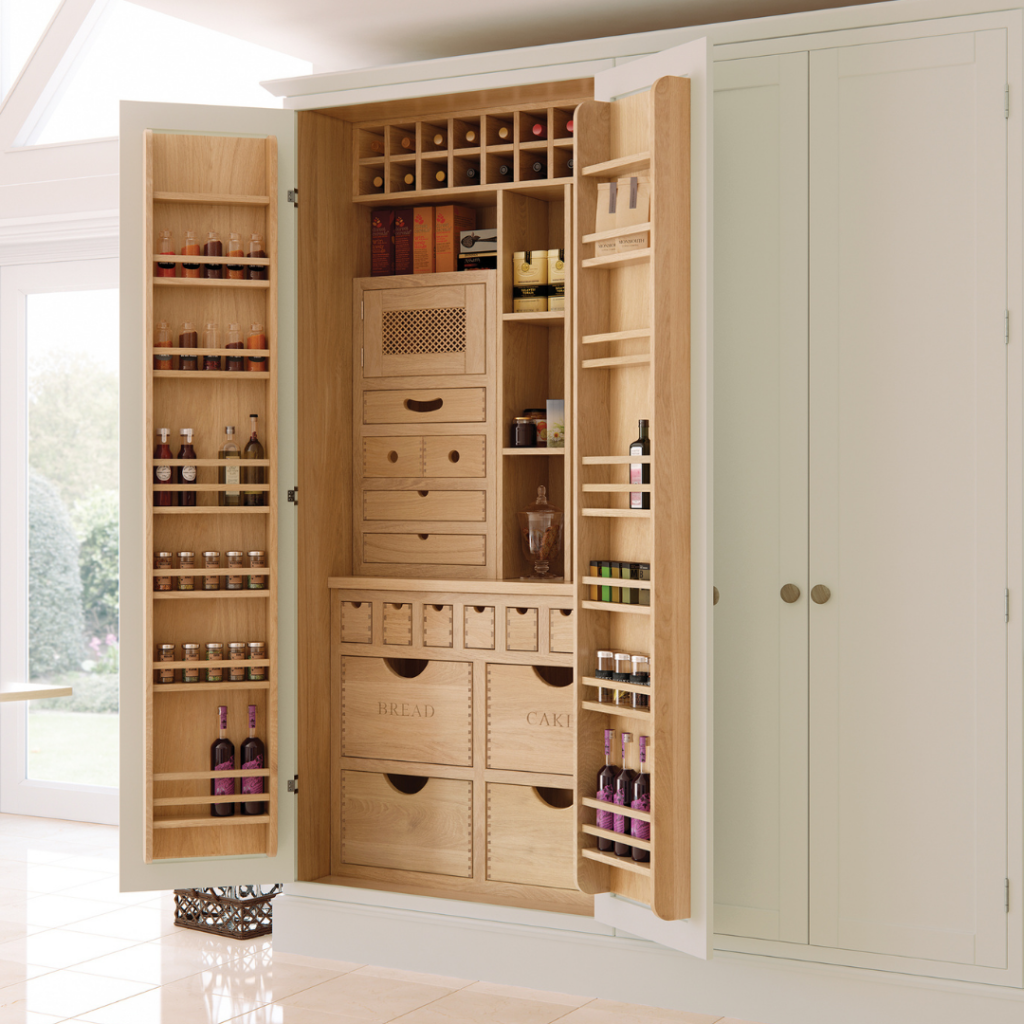 So, what are the different uses?
Storing away kitchen staples
Ample storage is an obvious benefit of a pantry, so the most clear use for the feature is to store away all of your kitchen essentials, such a dried goods, teas/coffees, eggs, and everything in between. With the choice of drawers below, a cupboard, or a combination of the two, you can design a pantry to reflect your needs perfectly, and if you opt for traditional pantry doors, door racks can also be installed to increase storage possibilities further.
Styling tip: Use a selection of jars or storage containers to display dried foods like cereal and baking ingredients, to add to the traditional appearance of your pantry.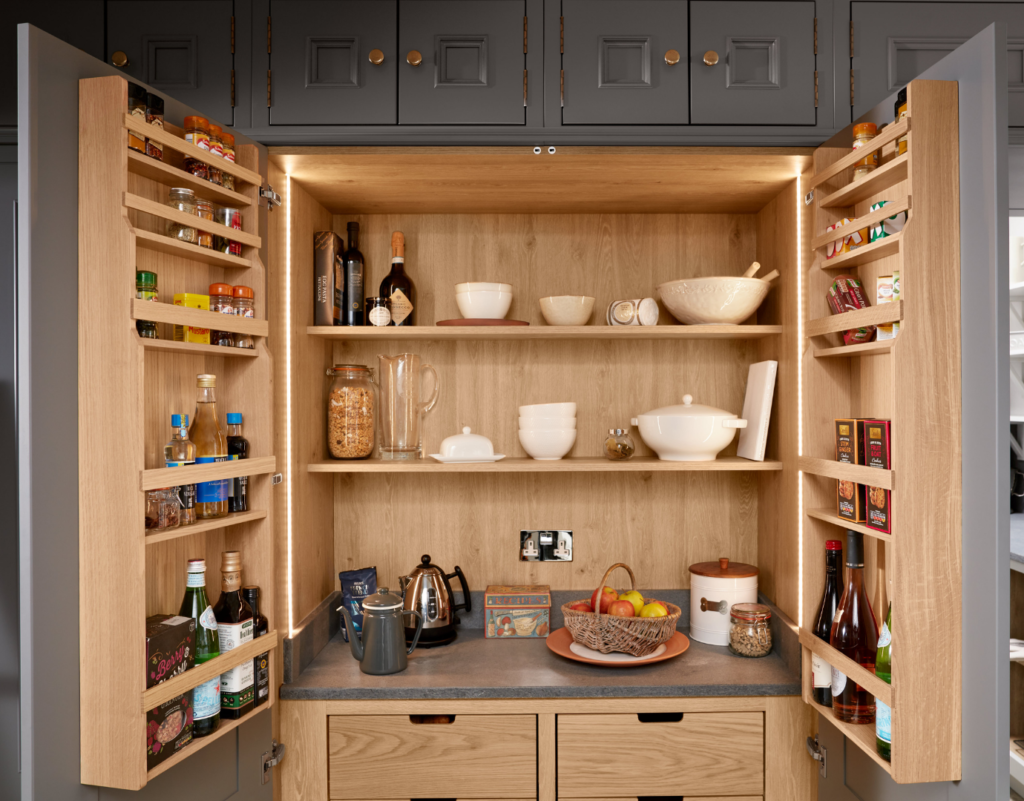 Housing small appliances and chopping boards
If you're looking for a storage solution to help with de-cluttering your worksurfaces, a pantry is the perfect place to house your appliances behind closed doors, such as a toaster, coffee maker, microwave and kettle.
The internal design of your pantry can be tailored to perfectly accommodate the electricals you wish to store away, whether you want to permanently integrate them, or whether you need shelves to be the optimum height to house certain appliances. Electrical sockets can also be planned into your design, so that your appliances can be efficiently used whilst within the pantry, without unnecessary extension cables and wires.
To further minimise clutter on your worksurfaces, chopping boards and serving trays can also be integrated into your pantry, in a clever tuck-away design that adds functionality and an attractive aesthetic element with a contrasting, washed oak texture.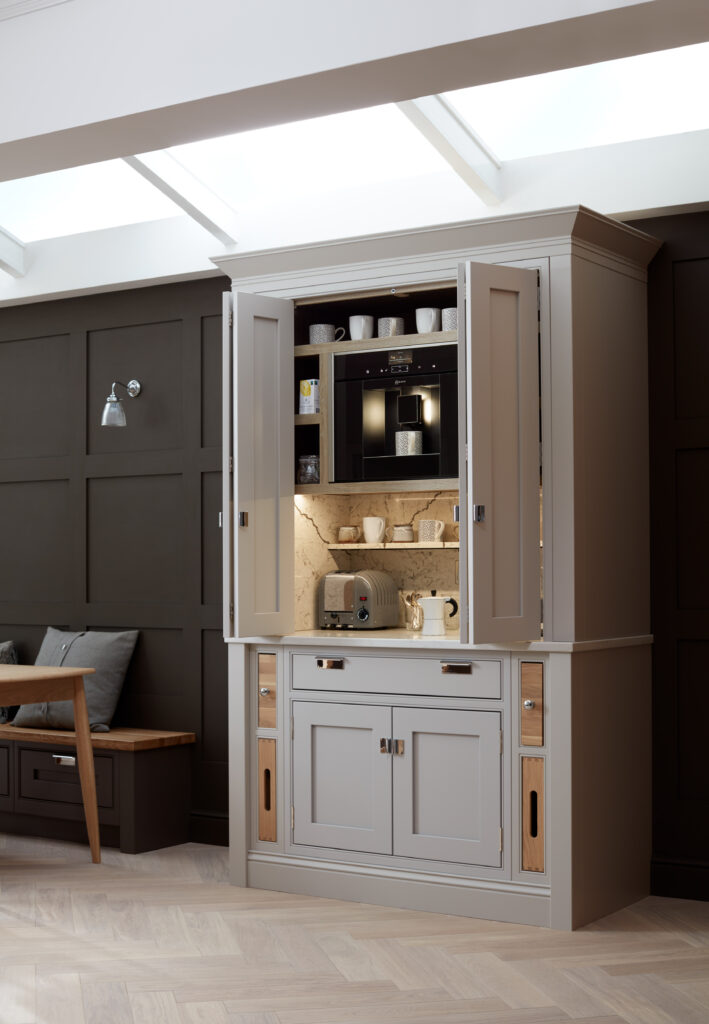 If you're looking to create a striking, glamorous statement with your pantry, why not opt to use it as a drinks cabinet? With shelves for your glistening wine glasses, a worksurface to prepare your G&T, and the option to integrate a natural oak bottle rack into your shelving, it's the perfect choice if your kitchen is the social hub of the house!
Styling tip: Your drinks cabinet will command the attention of the room with eye-catching, internal ambient lighting.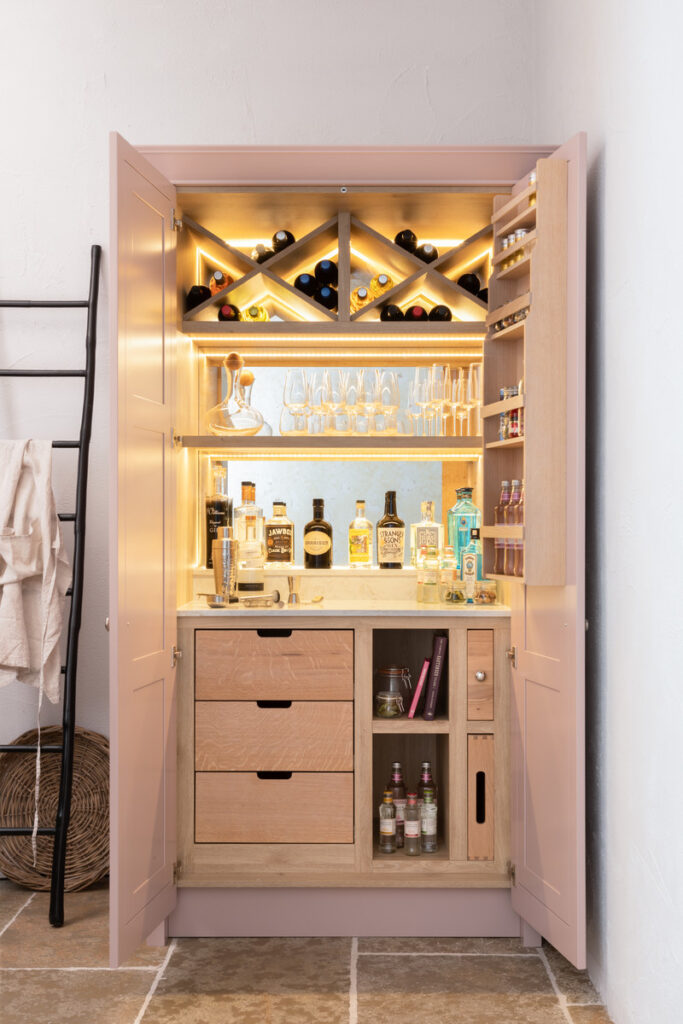 A coffee/breakfast station
With shelves for your cereal and condiments, the option to integrate a coffee machine, store a kettle and toaster, and a worksurface for creating your breakfast masterpieces, a pantry would be the perfect station to dedicate to your first meal of the day.
Or, if a coffee is the only thing you reach for on a morning, why not turn your pantry into a sophisticated coffee station, complete with everything you or your guests should ever need to make the perfect cup?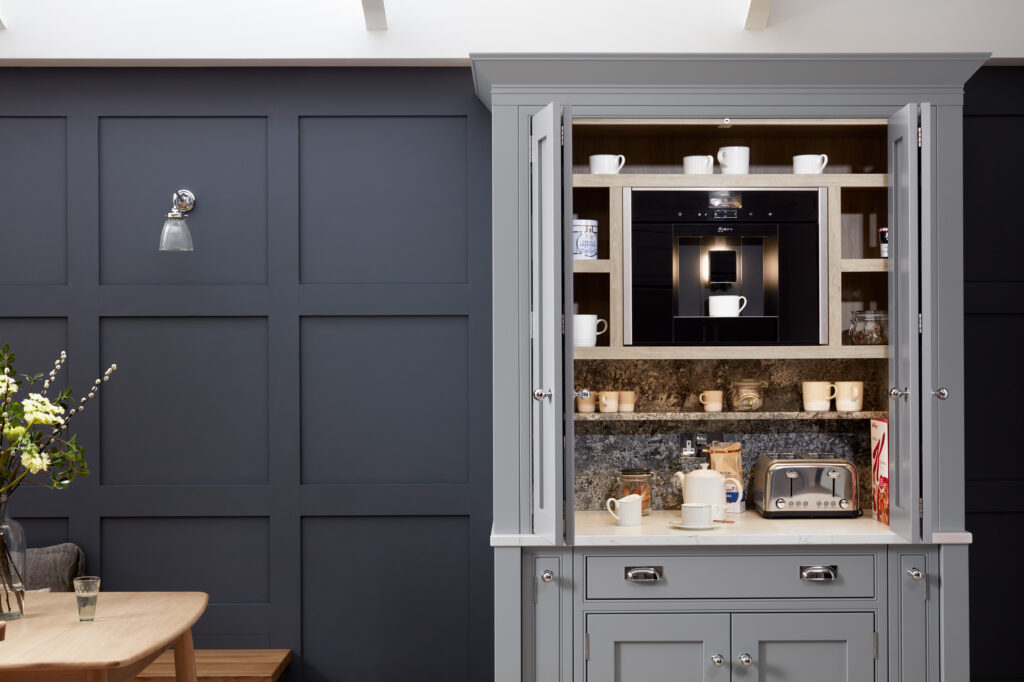 Last but not least, a pantry is the ideal place for a keen baker to store and display their baking essentials- with a worktop to house a mixer or food processor, shelves or door racks to display dry baking ingredients, and drawers below to tidy away important utensils- having everything you could need at your fingertips will make your baking experience smoother than ever before.
Styling tip: Pantry shelves are a great place to display your colourful recipe books for all to see!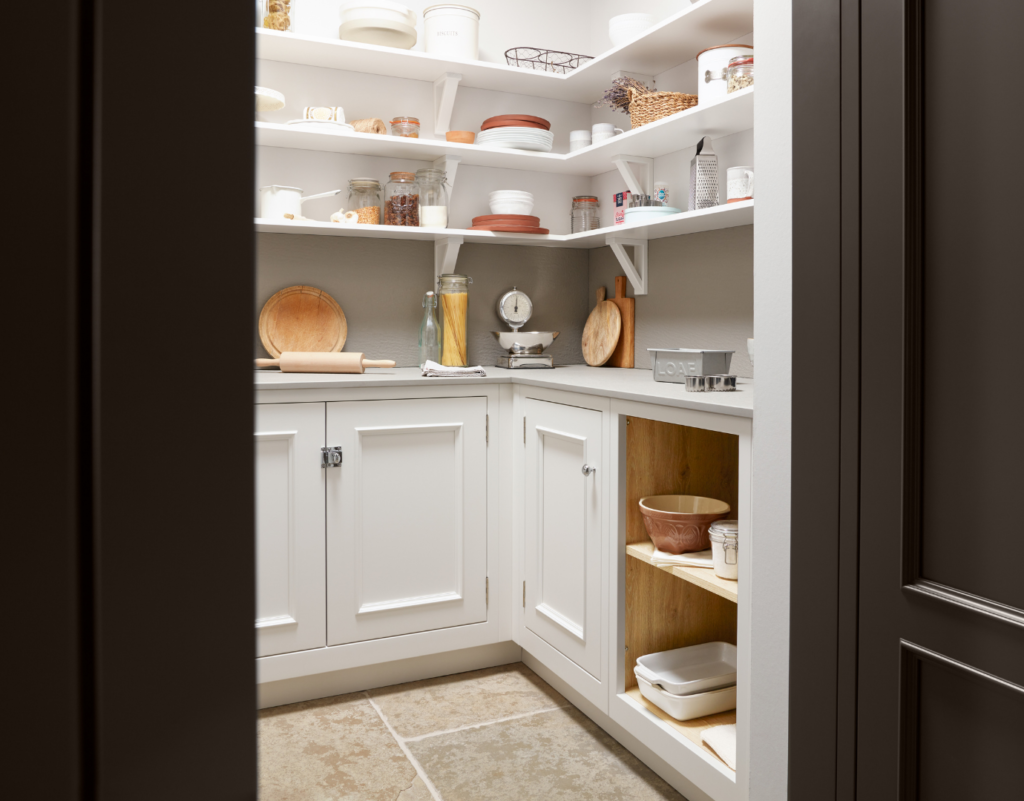 Has this blog inspired you to include a bespoke larder cupboard or pantry within your new kitchen's design? If so, please feel free to give us a call on 01366 727 417 or email us at info@newroomsdesign.co.uk if you would like to discuss anything further!
Kitchen Design Bury St Edmunds