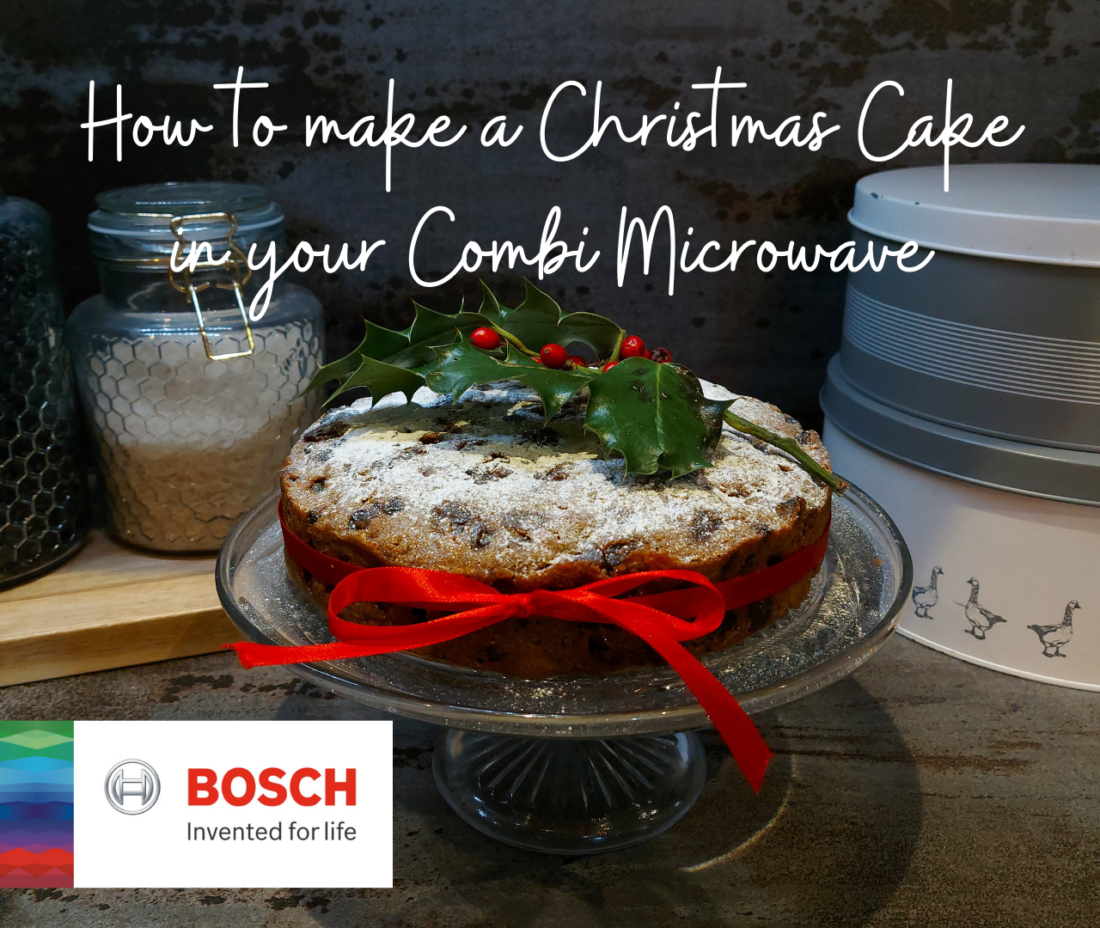 Bake a Christmas Cake in your Combi Microwave
We partnered with Bosch, to show you how you can make a Christmas Cake at home in just half an hour, using your Bosch Combi Microwave! Some of our projects using Bosch appliances here.
Watch the video below and cook along at home, or read the recipe underneath for further details and for the full list of ingredients!
Rich Christmas Fruit Cake
Serves 10-12
Cooks using 150ºC 4D Hot Air Function with 90 Watts of Microwave power in just 35 minutes.
Prep 15 minutes.
Ingredients
170g butter
170g dark soft brown sugar
3 eggs
200g plain flour
1 tsp ground cinnamon
1 tsp mixed spice
170g currants
110g sultanas
110g raisins
85g glace cherries (halved)
55g mixed peel
55g chopped almonds (optional)
2 tbsp Brandy
Zest and juice of half a lemon
Further Brandy to mature flavour
Method
1. Soak fruit for a minimum of 24 hours in brandy and lemon juice in large bowl covered with cling film.
2. Grease and line a 20cm (8″) cake tin or Pyrex souffle dish (make sure they are suitable for microwave use).
3. Cream butter and sugar until fluffy before adding the eggs.
4. Alternate adding the flour and fruit mixture (including any liquid), stirring each time, until fully incorporated.
5. Place into lined tin and smooth top – for a non-crusty top, brush with a little water before baking.
6. Place on wire shelf at the centre of the Combi Microwave and cook for 35-40 minutes using the temperature details above.
7. Test the cake is cooked with a skewer – an extra 2 minutes may be required if there is any stickiness inside.
8. Allow to cool, remove from tin and pierce with skewer. Add any extra brandy and wrap in foil for 1-2 weeks before decorating for a richer flavour.
If you are interested in the Bosch Combi Microwave or any other appliances for your kitchen, don't forget about our Bosch Cashback offer. Promotion valid on purchases made between 1st October 2020 and 31st January 2021.