Cardamom Shaker Kitchen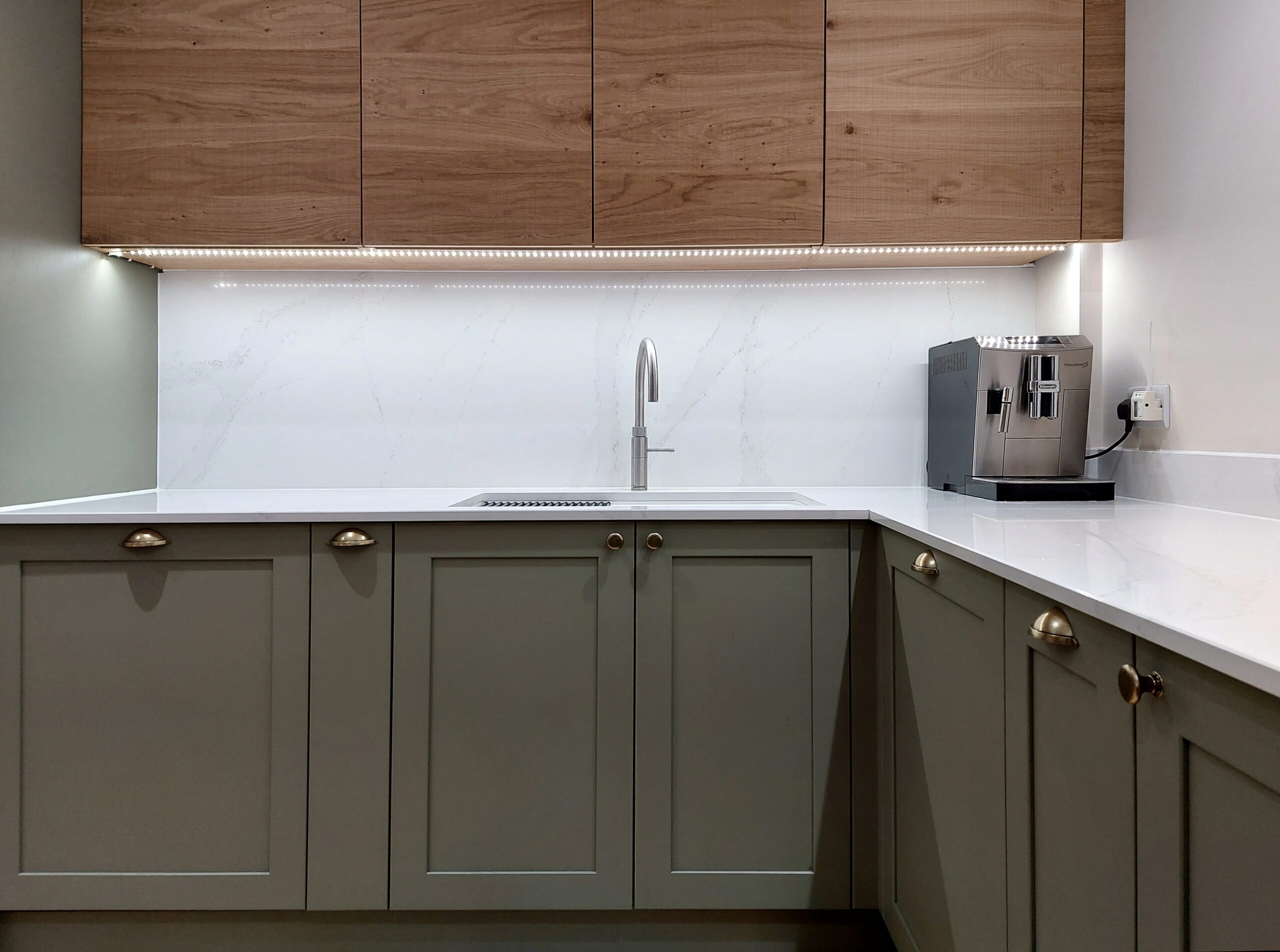 Layout & Design of the Cardamom Kitchen
This kitchen creates a unique twist on the classic Shaker style by combining handleless wall cabinets with painted Shaker base cabinets. The exposed oak adds a beautiful splash of warmth amongst the subtle Cardamom green cabinets – a fabulous alternative to using a grey or blue shade for your kitchen. Fitting in with the trend of green kitchens 
Plentiful storage is created with the kitchen's double-sided peninsula which also adds a perfect area for serving food at each mealtime. Bespoke storage solutions, such as our Le Mans corner system and a pull-out towel rail, are integrated throughout the cabinetry, ensuring the space is practical for busy, family life.
A range of modern stainless steel and integrated appliances are installed throughout the space, perfect for a practical, working kitchen. A BORA venting induction hob is housed within the peninsula for sociable cooking; negating the need for a bulky overhead extractor and instead removing cooking vapours straight from the hob itself.
LED lighting strips are incorporated into the oak wall cabinets above the sink, providing lots of useful light for food preparation and washing dishes, and also adding a modern edge to the kitchen design. The stainless steel Quooker tap at the sink below, provides boiling water in an instant; another element fine-tuned to make the kitchen as practical as possible for everyday life.
Cardamon Kitchen Features
Alpina Handleless Cabinetry in Natural Oak
Integrated Pull-out Towel Rail
Integrated Pull-out Bins
Le Mans Corner Unit in Anthracite
Bosch Serie 4 Integrated Fridge
Bosch Serie 4 Compact Microwave in Brushed Steel
Caple Integrated Frost Free Freezer
BORA Pure Recirculated Venting Hob
Painted Shaker Cabinetry in Cardamom
Antique Bronze Cup Handles and Doorknobs
Quooker Fusion Combi Tap in Stainless Steel
Franke Kubus Fragranite Sink in Polar White
Bosch Serie 4 Single Oven in Brushed Steel
Bosch Serie 6 Warming Drawer
Bosch Serie 2 Integrated Dishwasher
Silestone Eternal Calacatta Gold Worktops