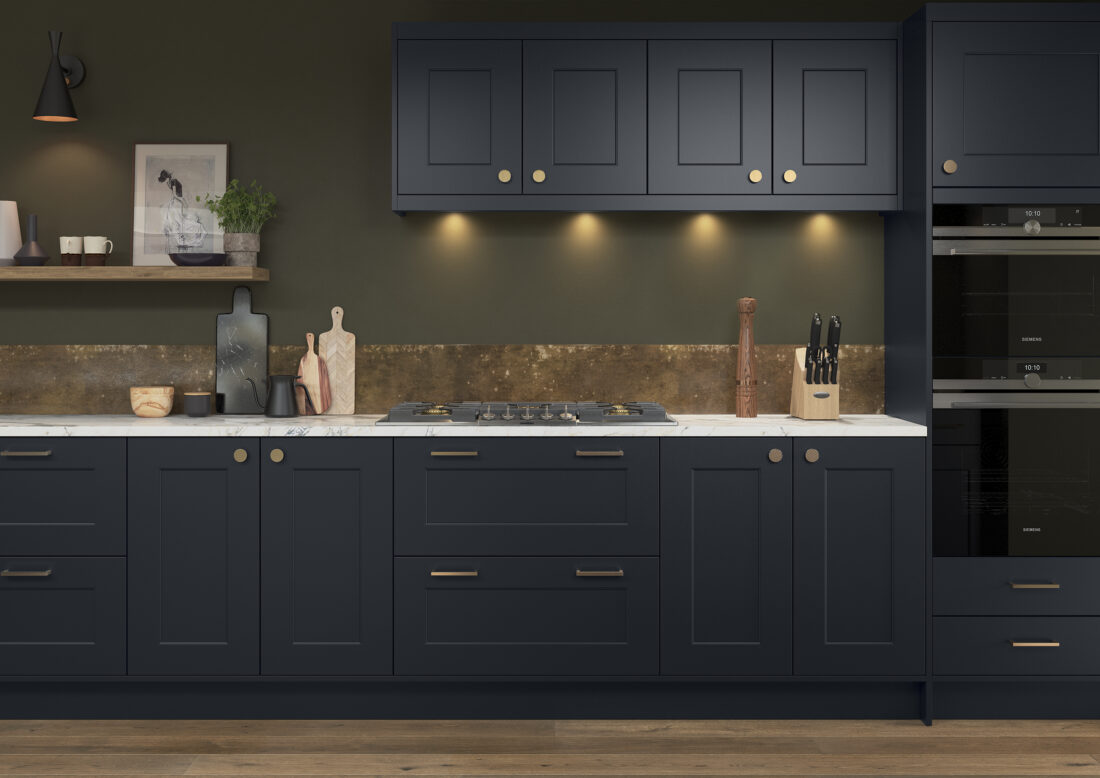 Kitchen Splashback Inspiration
Have you just finished designing the cabinetry in your kitchen but feel stuck for ideas on what to put behind your sink and/or hob? Well read on for some stylish and unique kitchen splashback ideas UK
Glass Kitchen Splashback Ideas
Glass Splashback Ideas
Glass splashbacks are perhaps one of the most practical choices, as they are incredibly durable, heat resistant. They are extremely easy to clean, with no grouting to attract mould. Clear glass can be a great option as it fades into the background and mimics the no-splashback look. If you want to make a bolder statement, you can opt for all sorts of different colours. There are sparkly, mirrored, antique/aged, matte and metallic effects. This blue shaker kitchen uses an antique mirror for the splashback. You can even have artwork/photos printed or wallpaper mounted behind the glass to make your kitchen truly unique. Choosing the correct splashback can make your kitchen look bigger.
We have seen metal splashbacks increasing in popularity recently. Its probably due to their new, more glamorous and luxurious look.  Metal is a good material for a kitchen as it is bacteria resistant and relatively easy to keep clean. However  be aware that any imperfections or blemishes in what is usually a thin material will be apparent because of the shiny finish.
Whilst stainless steel splashbacks are still a great option in a kitchen for their practicality and urban-industrial look. Ultimately we are definitely seeing a shift towards aged and patinated brass, copper and other metals. These add natural beauty and age over time to create a one-of-a-kind piece in your kitchen.
Subway/Metro tiles have become incredibly popular in recent years, and with good reason. They create a timeless look which works in  modern Shaker kitchens. You can also easily jazz them up with different grouts, or by experimenting with different layouts. Why not try laying them out in different patterns on the floor before you affix them to the wall; horizontal, vertical, diagonal, herringbone or chevron patterns all look fantastic and are great to try! Traditionally these tiles were always white, however we are now seeing more and more colourful options available on the market. Which are a great way to add a splash of colour to your kitchen design.
Patterned Tile Splashbacks
Patterned Splashback, tiles can create a fabulous contrast against minimalist kitchen units. They are a great way to add an area of eye-catching detail to a small area of the kitchen without overpowering the room as a whole. Some designs even allow you to lay the tiles in different ways, creating endless pattern options. If you don't want to brave an entire patterned tiled splashback, why not try integrating just a few patterned tiles amongst complementary plain tiles.Thus creating a toned-down version of this design idea.
Stone Splashbacks for Kitchens
Stone splashbacks can create an elegant and high-end feel within a kitchen. You can choose to either match your stone splashback with the rest of your minstral worktops. Or you could go for a contrasting colour or texture to make a real impact. They go perfectly with both modern and traditional cabinet styles too which is an added bonus. (Different types of kitchen cabinets)
Marble and Quartz aren't cheap options so if your budget is tight it may be best to stick with small upstands. But if you can afford to push the boat out, bring the stone much higher up the wall to create a beautiful and luxurious look. For a cheaper alternative you can also look at laminate or composite materials that give you the same look as real stone. However you do need to make sure anything you use is suitable e.g heat and water resistant.
If you want a more funky and modern option you can also consider terrazzo which is incredibly trendy right now!
Wooden or Panelled Splashbacks
Wooden Spalashbacks For Kitchens
Although timber isn't the first material that comes to mind when you think about splashback materials, it can look great! With a variety of options from rustic planks (not easy to clean, but the texture will normally hide any marks). Then to smooth engineered wood or even laminates. We also love the look created by using tongue and groove panelling on the walls. Then painted to match your units, killing two birds with one stone in the sense of both practicality and style. Just be aware that wood isn't always suitable for the area behind range cookers and hobs, as it can warp with the heat.
Unique, Unusual Splashback Ideas
Of course don't feel that you need to stick to tradition when it comes to your splashback. Why not think completely out of the box and choose a really unusual spalshback?
Polished plaster has been used in countries with hot climates for centuries. It's a great choice for both splashbacks and worktops due to it's waterproof nature. Finishes can range from a high-shine to more weathered/rougher textures. The great thing is the colour possibilities are almost endless! Once installed it needs almost no maintenance and all you need to do is give it a wipe now and then to keep it clean!
Another unusual option which looks great, especially within a mantled alcove, is exposed brick. If you have an older house with some internal exposed brickwork then why not make the most of it and turn it into a feature? All you need to do is seal the bricks and mortar so that they are resistant to water and heat and you are good to go! Alternatively, you can source fantastic textured tiles which can give just as good a finish as the real thing. Kitchen design in Bury St Edmunds.
We hope this blog has given you some fantastic inspiration for the splashback in your new kitchen. Please feel free to give us a call on 01366 727 417 or email us at info@newroomsdesign.co.uk if you would like to discuss anything further! Want further inspiration with kitchen colours 2022.
Kitchen Design Bury St Edmunds