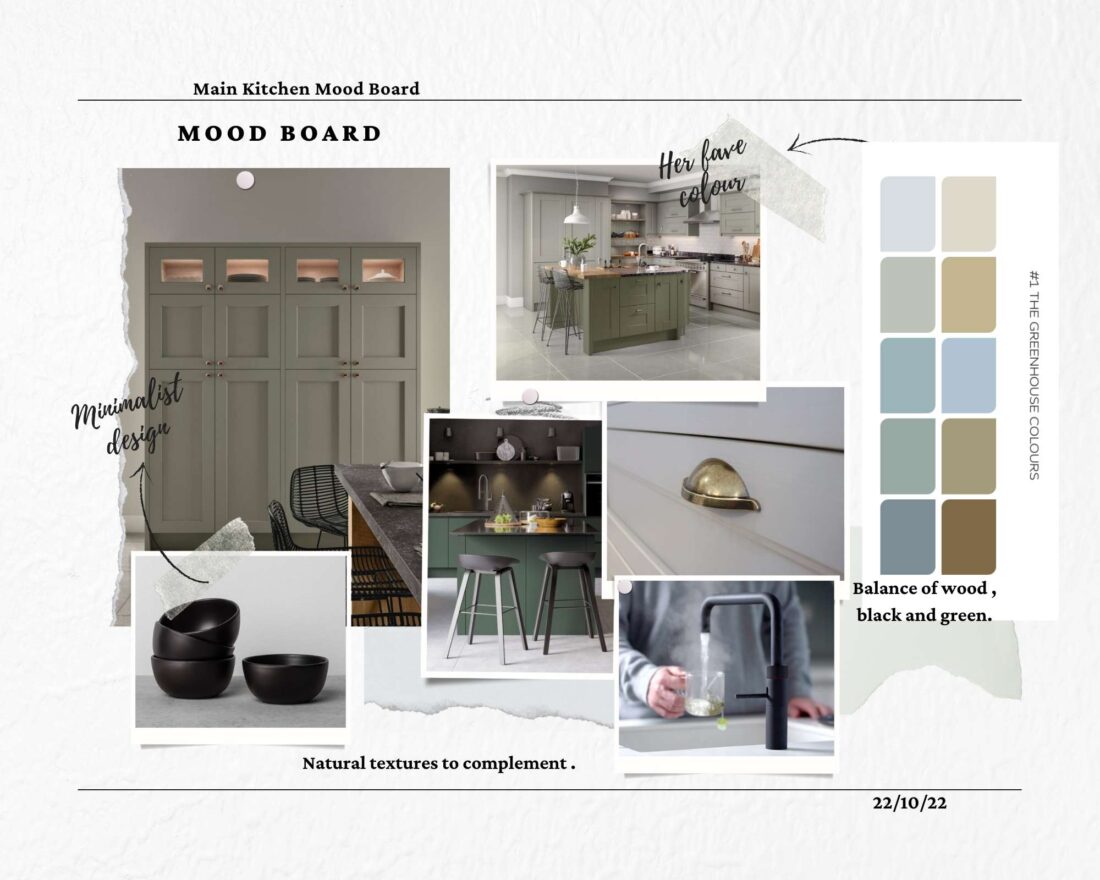 Creating A Mood Board For A New Kitchen
Is it moodboard or mood board, and what is it exactly ? A mood board is a collection of images, colour, textures and patterns that inspire you. This can be anything from a picture clipped from a magazine, to photos taken when you're out and about. It also helps to convey to others your vision of the design you want in your kitchen. Perhaps the smarter way today is to collect your images digitally for your moodpboard.
There are so many options for collecting images for your digital mood board. You can use Canva, Pinterest, Google sheets, Milanote or one of the many other solutions out there. For our examples at newsrooms we are going to use Canva.
Instagram Inspiration
When looking for your digital kitchen inspiration on Instagram this hashtags should get you the results you want.
#kitchendesign #kitchen #interiordesign #kitchendecor #homedecor #design #interior #home #kitchenremodel #homedesign #kitcheninspo #kitcheninspiration #architecture #k #kitchenrenovation #decor #interiors #kitchensofinstagram #interiordesigner #homesweethome #kitchenisland #renovation #kitchencabinets #kitchenset  #kitchenideas #kitchengoals #kitchens #decoration
What Is Canva
Canva is a free-to-use online graphic design tool. Use it to create social media posts, presentations, posters, videos, logos and mood boards. For your Kitchen mood board the free version should be enough. you get 5GB of cloud storage. A drag and drop editor interface, it's easy to use so you don't need to be a design guru. It also has 250,000+ templates so there will be something to like and it also has over a million free photos and graphics.
If you need to the pro version it is £99.99 a year and for that you get 1TB of storage and over 100 million images to use.
Organising Your Kitchen Images in Canva
Once you have found some images that you like you then you need to upload your images. Simply click the "upload files" bar and pick the image from your device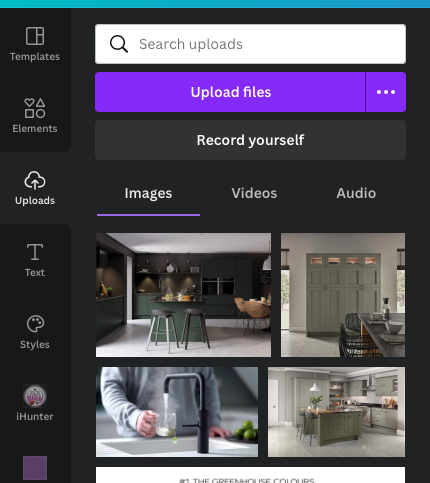 Organising Your Kitchen Images
Once they have been uploaded you need to organise them into categories, first of all click on the 3 dots. It then gives you these options, you want to select "move to folder".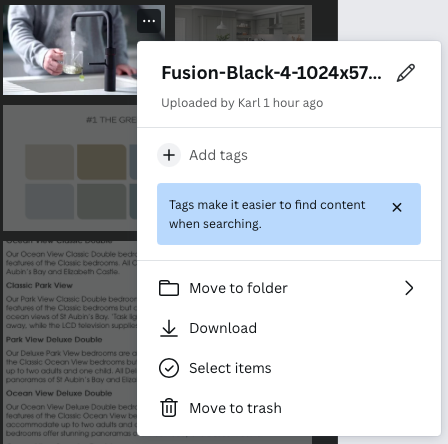 The next step to take is to select the "create new"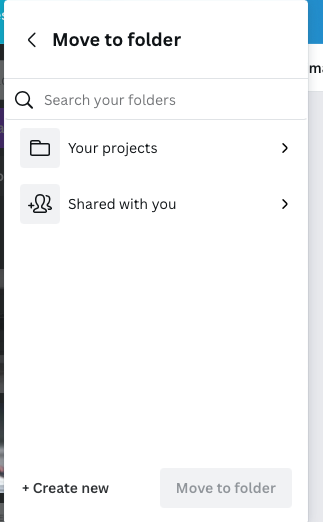 To make it easier to organise your images create a folder for each category of the kitchen. Taps & Sinks, kitchen cabinets types, feature cabinets, kitchen flooring, worktops, breakfast bars, kitchen colours, splash backs, island units, Kitchen appliances.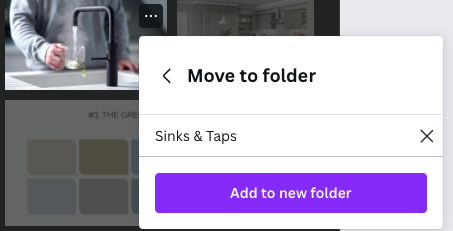 Once you have moved your digital kitchen images into the correct folder you will be able to view all your folders in Canva. Go to Projects and then select folders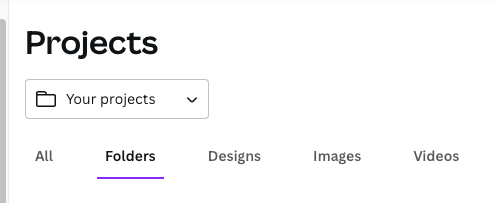 Kitchen Mood Board Template
Once you have saved all your images, ok when you think you have enough you can create your main kitchen mood board template. You can then simply drag in your images from the folders to the main board to create something like the below mood board.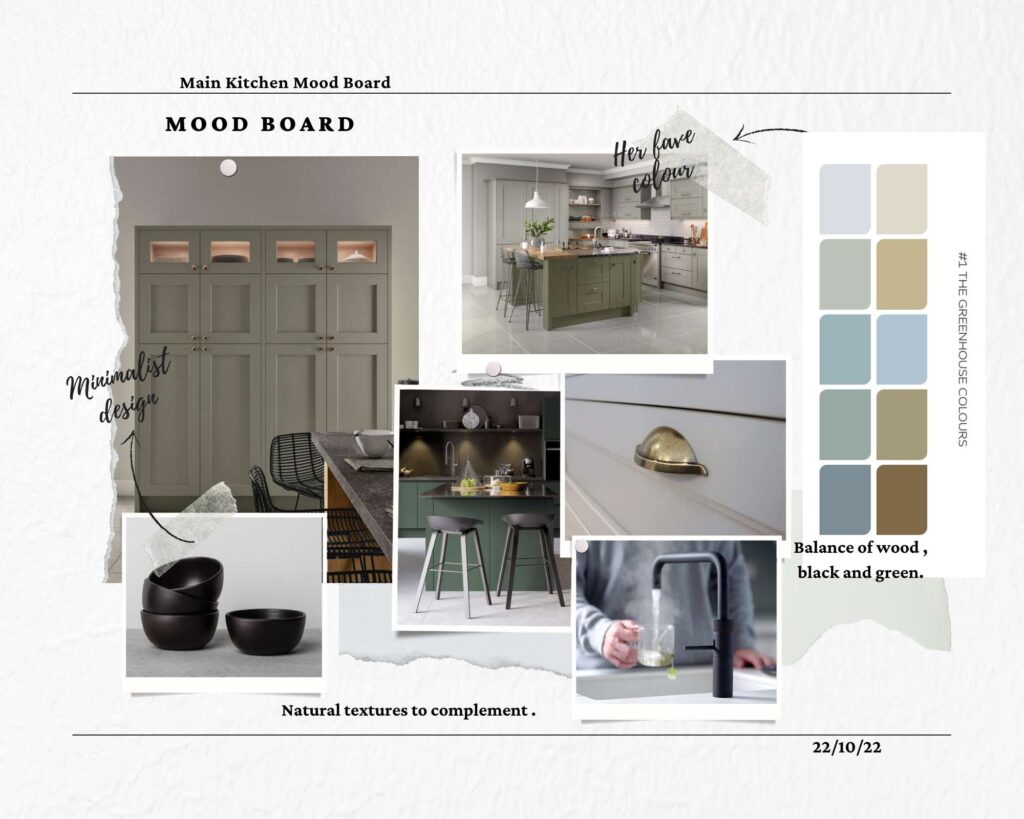 The great thing about creating your kitchen mood boards in Canva is once you have your folders you can create new mood boards in minutes.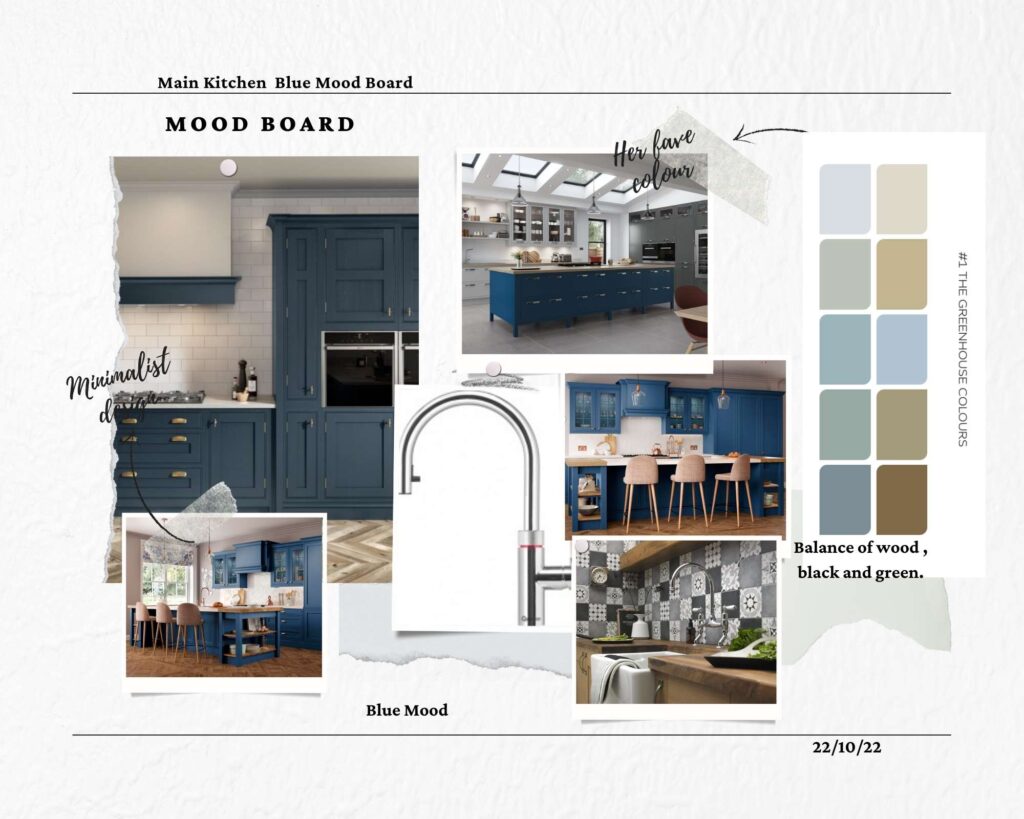 Sample Floder Collection Taps
A sample selection of taps in the folder, you can also tag your images as well to make them easier to find. If you think it will be a large collection of say taps, do tag them, by colour, by make or use what makes sense to you