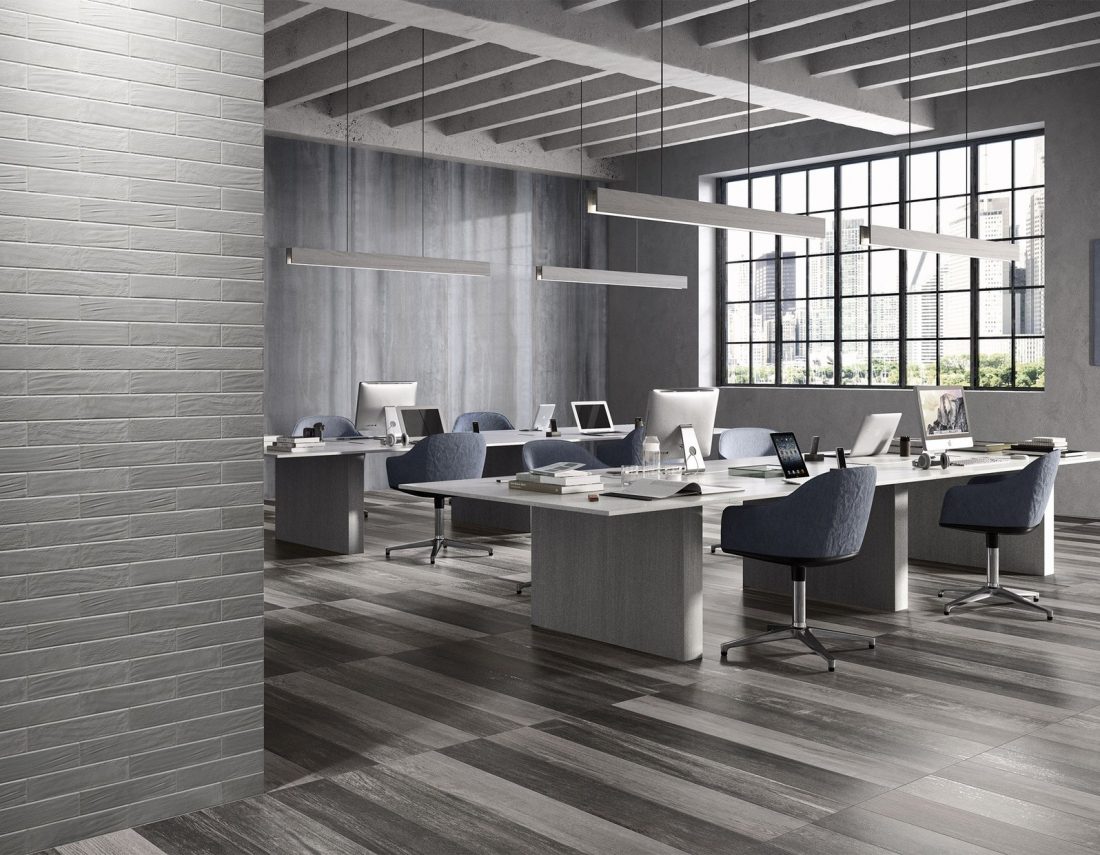 Best Flooring for Kitchens in 2022
updated for 2022 on 22/12/21
Kitchen Flooring for 2022
Of course there are many types of kitchen flooring but lets take a look at what is the best flooring for a kitchen.
Porcelain Tiles in 2022
What are the kitchen floor trends 2022, well we think more porcelain tiles in 2022 but with an emphasis on hexagon tiles creating honeycomb or geometric patterns.
Of course tiles can be cold which is fine in the summer, but in winter not so good. It may be worth investing in underfloor heating to give that cosy feel in the kitchen. There are 2 types of underfloor heating you can install, wet or electric. Electric underfloor heating costs upwards of £60 per m2 and the wet systems can be double this price. Kitchen design Cambridge can give you a better idea of projected costs.
Wooden Flooring In 2022
Wooden kitchen floors will still be popular in 2022 but in lighter bleached wood effect. Giving the kitchen a more reflective light to give a more open feeling space.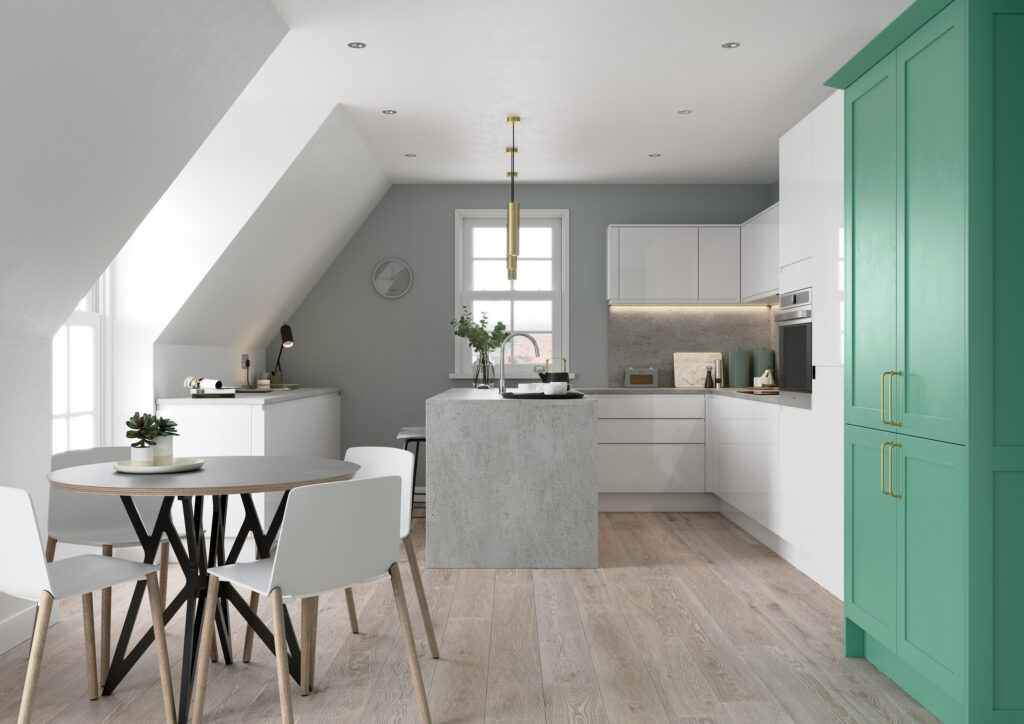 Discover how choosing the correct kitchen floor can help your kitchen look bigger.
Vintage & Retro To Trend in 2022
Vintage, retro call it what you will but this will be one of kitchen floor ideas for 2022, where will look back to create new trends in flooring. We are talking about herringbone but with more detail within the wood. This will create an interesting patterned visual appearance to the floor. The cost can be quite high when done with real wood so consider the options of vinyls to recreate this look.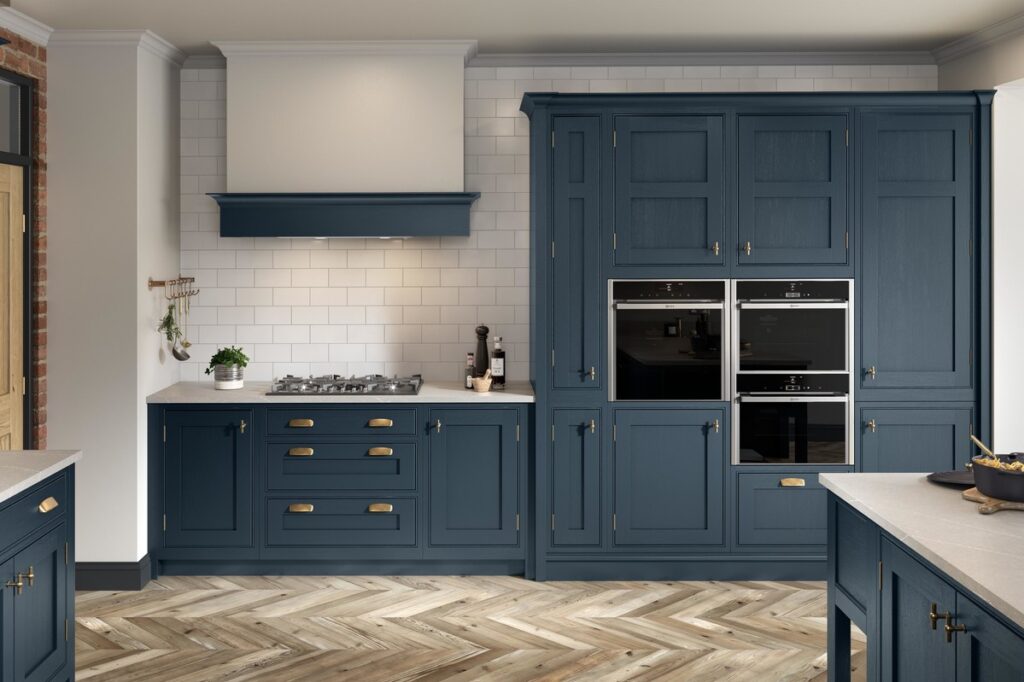 Also a strong trend in 2022 are going to be decorative patterned black and white tiles. Plain black and white tiles first become popular in the Victorian times and also trending again in the 1920's.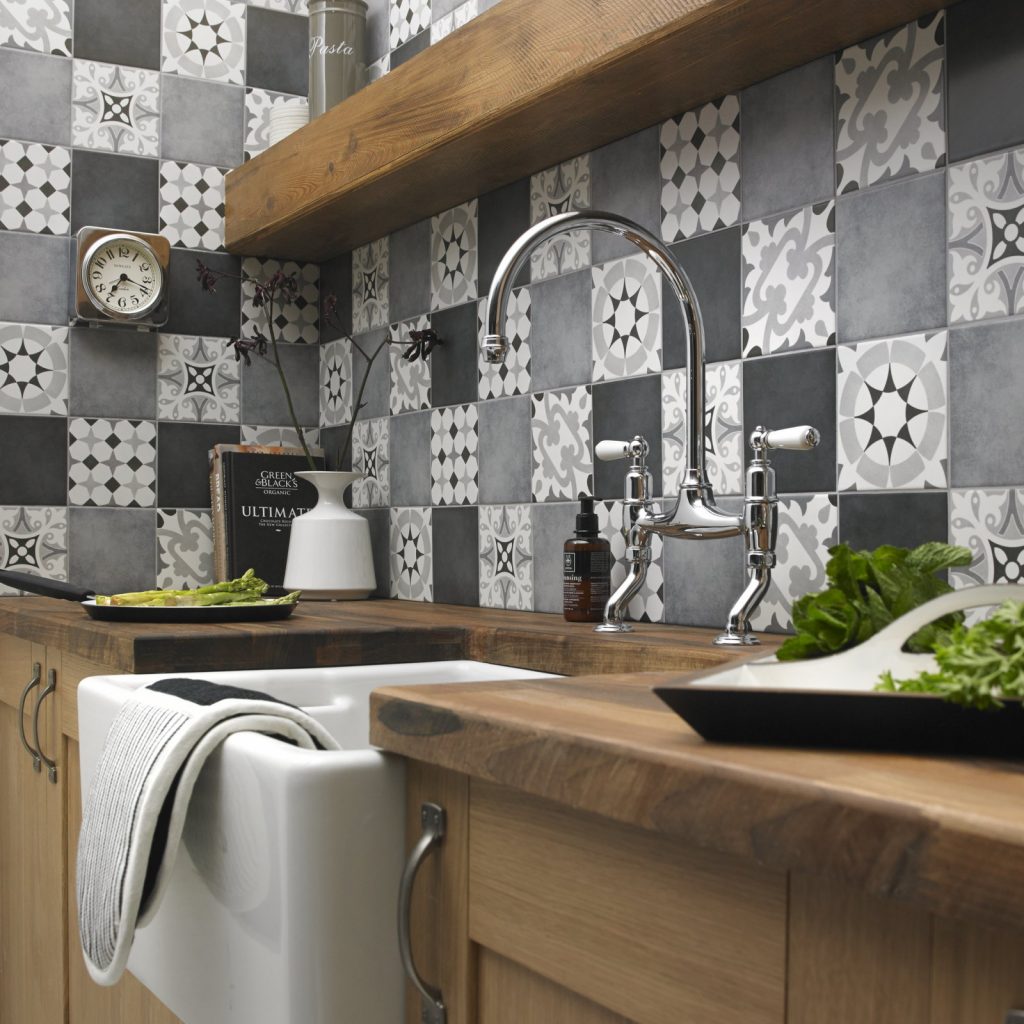 Terrazzo Kitchen Flooring for 2022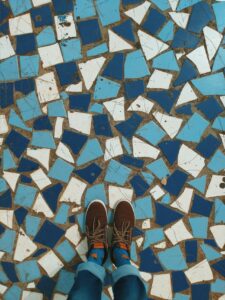 Terrazzo offers the style of traditional Venice flooring. Originally, it was a cheap cement-based flooring with pieces of glass and natural stone. For flooring trends 2022, this look can be achieved with tiles.
The patterns and shades offered in a terrazzo floor are endless and this floor can add an accent to the interiors and make it look more appealing.
It's the holiday season. You're having a bunch of friends and family over to celebrate and spread some merriment. (lockdown rules permitting) The place is packed. There's food, drinks, and everyone is having a grand ole time. But what is perfect for kitchen floors.
Reclaimed Barn Wood
The reclaimed barn wood flooring trend in 2022 is an extension of the faux wood tile flooring trend so popular in 2016 The barn wood look remains a favourite  due to its colour variation and weathered look. For homeowners looking for a warm rustic look, this is something to consider. The technology has gotten so good that manufacturers can replicate the exact look of real wood on tile surfaces. This makes it almost impossible to tell tile from real wood. We could even see multicoloured tiles to give more space to a space. For added "wood" authenticity, these tiles will have a directional finish, similar to real barn wood.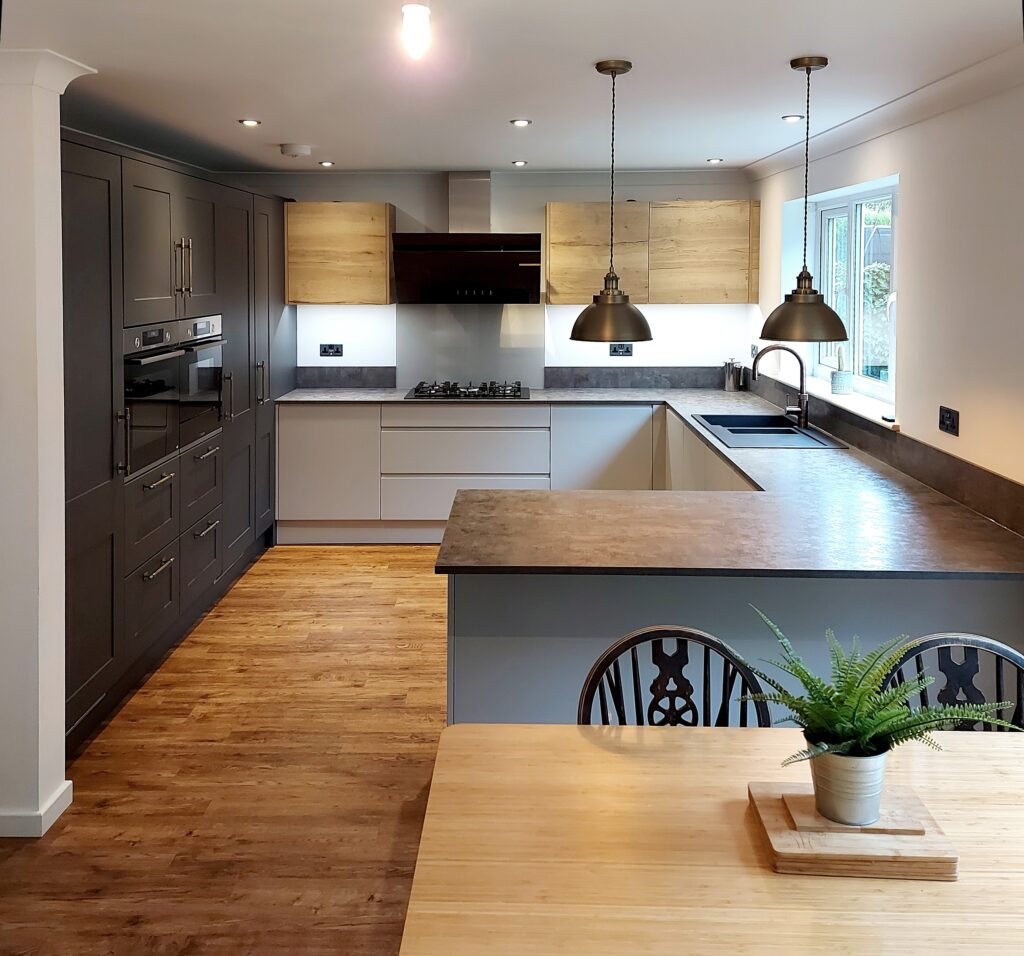 Kitchen Flooring Trends 2022
Tiles that look like wood provide much more variety. You no longer have to resort to traditional hardwood to achieve a warm and welcoming atmosphere in your home. With faux tiles, you get the design
benefits of a hardwood floor while enjoying the functional benefits of tile
Where is everyone standing and hanging out together? Why is it always the kitchen people gravitate too, is it because the food and booze is usually stored in there.
The kitchen is the central hub of the home and the place where everyone tends to congregate.What will be the colour schemes for 2022, and you need to get your kitchen design right. It's a high-traffic area, that is frequently exposed to spills, dirt, and moisture. Kitchens need to have durable, water-friendly flooring, but what is the best flooring for kitchens?.Of course you may need to remodel your kitchen to incorporate your home office. We have some great home office inspirations to share with you.
Things To Consider For The Kitchen Flooring
Unlike other rooms in the home, the kitchen gets used daily. Its either for food storage and preparation or group or family dining,.For some it is simple just the heart of the home and everything starts there. Kitchens take a beating unlike any other room, well perhaps maybe the bathrooms well. It's no coincidence that both are regularly exposed to moisture. From washing dishes, sinks, cooking, ice makers/refrigerators, to regular foot traffic. Moisture is a real consideration that affects every surface in the kitchen, especially the floor. When choosing flooring for the kitchen, waterproof is key.
Due to the number of kid, adult, and pet feet meandering through the kitchen each day, a durable floor is also critical. Many kitchens double as a "mudroom" with an exterior entrance and all the fun, dirt, debris, and moisture one could track from the outside to  your floor.
Remember, work with a flooring and kitchen designer in Cambridge, like Newrooms. We can help you identify considerations like these and put you on the path toward making the right flooring choice for your project. What is kitchen design exactly?
Recommended Flooring For Kitchens 
Hardwood
Used for centuries in homes, hardwood floors continue to be a luxurious and popular choice for many homeowners. Solid hardwood floors are durable, warm, stylish and water-resistant. Hardwood floors are not waterproof but when combined with the proper finish are water-resistant. However long-term exposure to moisture will damage them. Clean spills as soon as possible and ensure that the surface is completely dry.
Despite this "weakness," hardwoods are a great kitchen floor. They can also add a variety of looks over the years of their life through refinishing. So they can either to match flooring throughout the home or to give the kitchen some standalone style. Depending on the finish, hardwood floors can be slippery, However, design variables such as hand-scraped or distressed finishes or plank width/length can provide extra surface area for traction.
Hardwood Trends 2021-22
Trends to watch for with hardwoods in 2021: lighter finishes and variety. While the deep walnut and cherry finishes are somewhat traditional and timeless, hardwood flooring for 2021 will feature lighter, more "natural" wood colours. Look for terms like "blonde" and "honey" to be big players, along with greys and whitewashes. Colour  variety is another continuing trend for 2021, dark wood mixed with light and medium-tone woods provide an eye-catching floor. What will be the kitchen colour trends 2021 be?
Look for reclaimed, recycled, and environmentally sustainable choices to be popular varieties for hardwood flooring.
Laminate Kitchen Floors
Generally speaking, like hardwood floors, laminate floors are a warm, water-resistant choice for the kitchen. As they are not waterproof, homeowners should remember to factor this in when selecting laminate. Laminates have long been a less-expensive way to get the look of traditional hardwood.
However many flooring manufacturers are now offering "waterproof laminate" which features a rigid core made of waterproof material that adds strength and stability. These do away with the perceived weakness to moisture.
These new laminates still have the advantages of traditional laminates – including the flexibility of installation. Most laminate floors can be clicked together and either permanently installed (glued down). Or can be floated, allowing for installation over uneven subfloors.
Much the same as hardwood, lighter finishes will be the trend for 2021. Gray washes, light woods, and mixed colours will lead the style parade. Also look for longer plank lengths, even up to 36" and 48", combined with wider planks (as wide as 8"!) to be a trend for all wood and wood-look laminates.
Mimicking solid hardwood flooring's distinctive colours and patterns remains a primary selling feature of laminate floors. Hand-scraped, distressed, rustic, and "reclaimed" looks will all continue to be popular for 2021. All homeowners continue to want unique, realistic looks for their floors. Pattern installs like chevron or herringbone remain popular and assist with achieving those looks.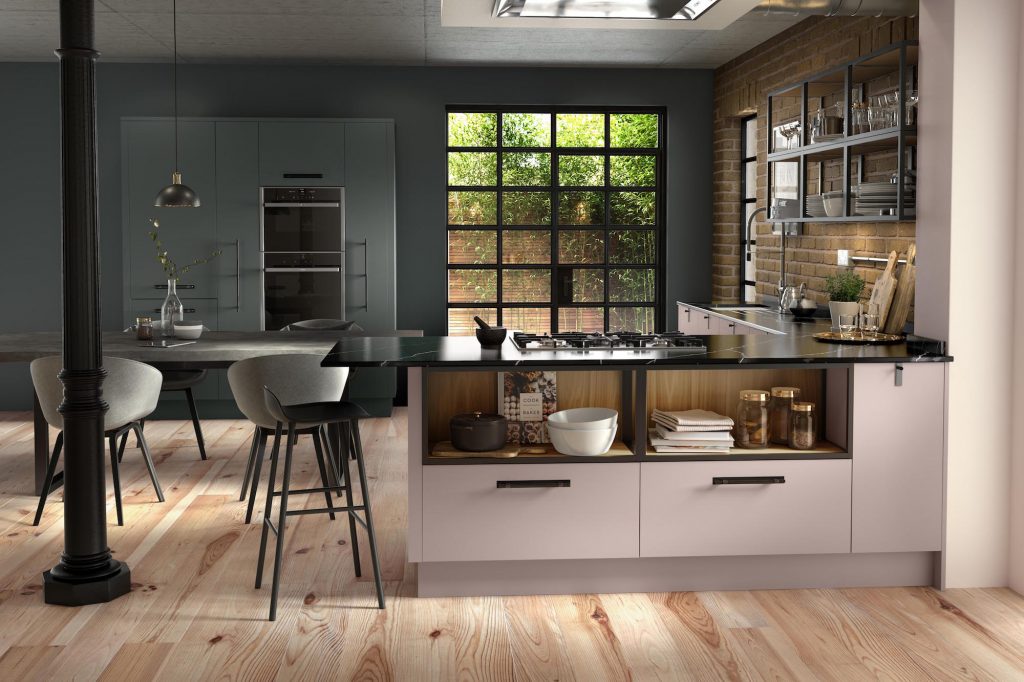 Laminate kitchen flooring with our second nature kitchens.
Kitchen Floor Tile Ideas 2022
A classic and durable look, tile flooring has long been the go-to option for wet areas. If installed, grouted and sealed properly, tile can last a lifetime and sometimes longer. Tile is the number one most popular option for kitchen flooring. A wide variety of kitchen floor tiles are available, so it's helpful to understand the differences and narrow it down to a few options you prefer.
Here's a look at the most popular varieties of tile for kitchen floors.
Ceramic or Porcelain
One of the most durable, and most popular tile for kitchen floors or walls. Ceramic tiles are man-made from natural materials, usually clay and baked to a finish. They are available in a wide variety of styles, shapes, colours, and patterns.
Ceramic tiles can handle spills, splatters, and messes dished out in most kitchens. While they won't damage the tile, these messes can stain grout, So where possible they should be cleaned up as soon as possible.
Among the most popular style of ceramic tiles, porcelain tiles are 100% waterproof and can handle just about any stain. They are harder than standard ceramics due to a higher temperature baking process which strengthens the tile for durability. That durability can make them slippery in some finishes, so be on the lookout for slip-resistant tiles or tiles with non-slip features like patterns or texture. These are found commonly on ceramic and porcelain tiles meant to look like wood or natural stone,
Natural Stone
Another great tile option for kitchens is made of natural stone. On the higher end of the price scale, stone tiles (think marble, granite, etc.), like ceramic, are offered in a variety of colours and patterns. However, the most popular options tend to feature colours or patterns that occur naturally, rather than man-made.
Natural stone tile does require a bit more care than porcelain or ceramic. Typically, they need to be sealed following install and re-sealed at regular intervals as time progresses. But with proper care, they are a beautiful and tough surface for your kitchen. Will your kitchen splashback contrasts our compliment your kitchen floor.
Kittchen Flooring Trends 2021-2022
For 2021, tiles continue to be popular as kitchen flooring. Especially those that mimic traditional hardwood floors, with planks and "grain" finish details. Larger tile sizes remain popular, as they have in previous years. Plank tile 8" wide by 48" long is a big hit, as are 12" x 24" ceramic tiles.  Despite these trends, subway tiles will continue to be popular, along with decorative mosaic tiles.  Traditional square tiles were trending down in recent years, but in larger formats, they are making a comeback in popularity!
Mixing tile sizes and patterned installations will be popular again in 2022. Installing a room entirely diagonal, or even using a herringbone or chevron install to spice up a more traditional tile, are just a few of the options.
Vinyl
Perhaps the most popular flooring option in recent years, and for 2021 shows no signs of slowing down. But many people looking for kitchen flooring don't know anything about modern vinyl flooring. This is not the sheet vinyl your parents used to have; this ain't mom's linoleum! We still think that this will still be modern kitchen flooring solution in 2022. 
Vinyl flooring today, which was formerly a purely commercial product, is most popularly offered in tiles and planks. Also popular varieties of vinyl will be referred to as LVT or LVP. These stand for "Luxury Vinyl Tile" and "Luxury Vinyl Plank". Basically you're getting good vinyl either in a tile or plank.  Most importantly in the vinyl acronym world is the reference to vinyl as WPC or SPC: Wood Plastic Composite or Stone Plastic Composite.
Composite Flooring
WPC and SPC refer to the core of the vinyl flooring. WPC uses wood and polymers in the core for stability and strength; SPC vinyl has a stone/plastic composite core, made largely of stone dust, stabilizers, and PVC to strengthen the tile. Both feature a foam or cork backing to soften the floor underfoot and deaden sound. The vinyl layer from where the floor gets its name is the prominent feature of these floors, showing the near-infinite colours and patterns, and they're topped with a wear layer for added protection from scrapes and spills.
Both vinyl types are fully waterproof and can be installed "floating" above the subfloor. They're a great option for kitchens and even bathrooms, they can even be installed in basements.

Waterproof Vinyl
While vinyl flooring is a bit softer than some other options it's still a tough, durable flooring solution. Popular trends for 2021 include the most popular variant of the vinyl, the wood look. Vinyl designed to mimic solid hardwoods is responsible for driving the vinyl market. Offering customers the look of wood, with a softer underfoot yet extremely durable product.
Vinyl flooring will also continue to move toward lighter colours and finishes for 2021. Look for the whitewash and "blonde" colouring on wood look and gray on stone look vinyl.  Interesting "finish" patterns are also becoming more popular like wire, and vinyl is offered in a near-infinite array of colours and patterns. The same install patterns that are popular for hardwood will also be for your vinyl think chevron, herringbone or diagonal. So look to install in a pattern or patterns to tailor the unique look to your home.
Stained Concrete Kitchen Floors 
The concrete kitchen floor will sill trend in 2022, the only probable difference is that in 2022 people are looking at a more polished finish. The high polish will reflect more light and make the space feel much more open creating the illusion of more space.
Perhaps the most basic and most durable kitchen flooring option is stained concrete. Offering a sleek look that can be tailored to be modern or traditional. Once open a time you would never have even considered using concrete for any floor.  Concrete is extremely durable and can be sealed to completely waterproof, which is necessary as concrete typically absorbs most fluids.
Concrete floors can be stained to look like wood, or stone, even some tiles. It can be slippery once finished, however, there are options to make the flooring less slick. So mats in the kitchen probably are a good idea wherever excessive moisture may occur.
Look for lighter finishes, as we saw with the other flooring products. As there are no tiles to specifically install and arrange, the unique looks come from the finish, including the colour and patterns.
Stained concrete is one of the best cheap flooring options for 2021 as well, so it can be a great economical option for your kitchen floors. Want it to look like marble? No problem! Want hardwood or traditional ceramic tile looks? No problem! Contact newsrooms today for kitchen design Cambridge.
The Best Materials For A Kitchen Floor
A survey in the USA for the best / most used materials for a kitchen floor was hardwood with 29% of the respondents preferring that option. The second most popular kitchen floor material was ceramic Orr porcelain tiles at 23%. The 3rd most popular kitchen flooring was engineered wood (13%) but only 6% chose the natural stone option, this could be down to the cost factor
Don't forget about our Bosch Cashback offer. Promotion valid on purchases made between 1st October 2020 and 31st January 2022. How to create the perfect pantry.