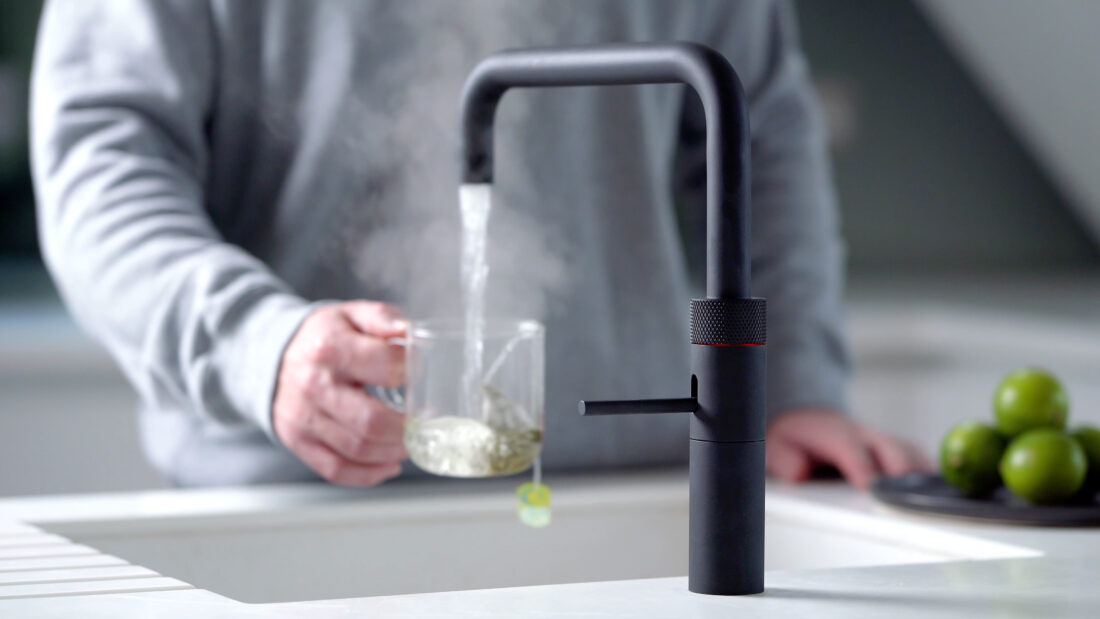 Why Quooker?
Since the Quooker tap was released it has become an indispensable item in kitchens all over the world. But why should you install one in your new kitchen?
Quooker was the very first boiling tap in the world. The systems use a small insulated tank discreetly concealed within your kitchen cupboard which links to the boiling water tap on the worktop. The tank acts as a vacuum flask connected to the mains. The air in between the insulated walls is so thin that the heat cannot escape.
This all means that it takes very little energy, only 10 watts to be precise, to keep the water in the tank at 110°C. When the tap is turned on, the water only then starts to boil and the out-flowing water's temperature is delivered at 100°C. As water flows out of the tank, fresh water immediately replaces it and begins to be heated.
The standard taps come with a choice of a 3 or 7 litre boiling water tank capacity depending on the usage you will require. However, by adding Quooker's CUBE system, your tap will deliver hot, cold, boiling, filtered chilled and sparkling water…all from the same tap!
Quooker offer a range of styles so that your tap can look perfect within any setting.
The Fusion is available in a round or square style to suit both modern and traditional kitchens. For those wanting an even more elegant style for their kitchen, the Fusion is also available in Quooker's Classic look with added ornate detail.
The Flex, features a round tap with a flexible pull-out hose; perfect for cleaning around the sink or for filling up glasses or pans that are on the edge of the sink.
If you would prefer to keep your boiling water separate from your main kitchen tap, Quooker also offer a range of Nordic taps which can either be used on their own with your own/existing mixer tap or in a twin-set with Quooker's own style mixer tap.
Depending on the style of tap you opt for, the range of finishes available include: polished chrome, stainless steel, matte black, gold and patinated brass; allowing you to match your Quooker to the other hardware in your kitchen.
Of course, there is nothing wrong with a good old-fashioned kettle, however many people say that once you own a Quooker tap it is extremely hard to live without it. Once you read the benefits below you will see there really is no competition.
Time-saving – With a Quooker, you never need to wait for the kettle to boil.  Boiling water is available instantly, always saving you time.
Energy-saving – Quooker's high-vacuum insulation, ensures it is more energy efficient than a kettle. A kettle costs 6-8p per boil, on average. A Quooker costs 3p on standby for 24 hours and just 1p per litre of boiling water.
Water-saving – We all know its important to be economical with water, yet so many households waste it. Think about the amount of times you boil the kettle twice, when you let the tap run. A Quooker prevents wastages like this.
Space-saving – A Quooker saves precious space on the worktop. The space occupied by your kettle will be freed up and because the tank is so compact, there is still lots of usable space in your under-sink cupboard.
Versatile – There are so many uses for the Quooker – including the things you may not have bought it for; Making tea/coffee, Cooking pasta, Blanching vegetables, Sterilising a baby's bottle, Rinsing dirty dishes and much more!
Great taste – The HiTAC filter inside the tank purifies the water. The tank stores water at 110 degrees ensuring freshness and sterility. Adding the Cold Water Filter or Cube accessory will also purify your cold drinking water.
Incredibly safe – Over 1 million Quookers have been installed around the world – all with an unblemished safety record. The childproof handle, double-push and turn activation, dual insulated spout, a light to indicate when boiling water is being used, and aerated flow all add to the tremendous safety record of the taps.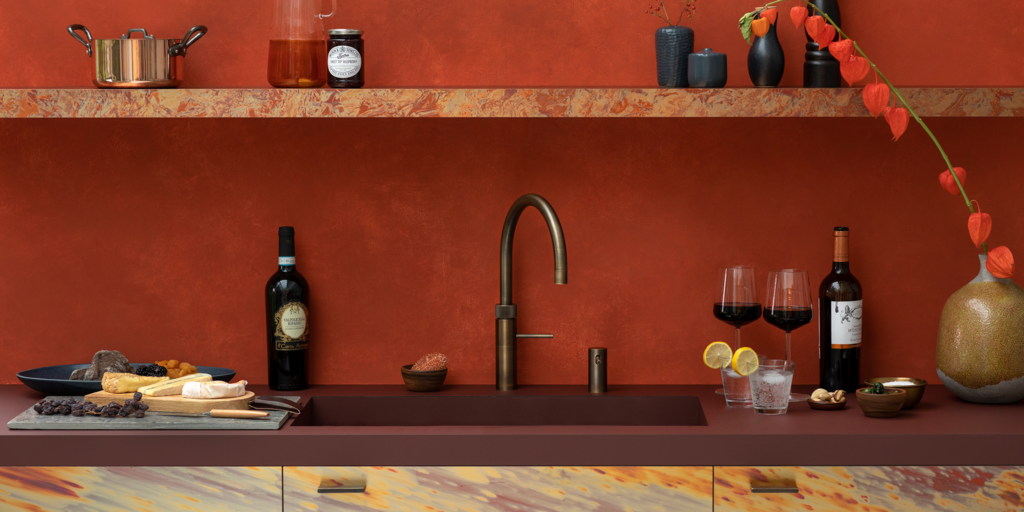 We hope this blog has given you a great overview of Quooker's products! If you would like to discuss installing a Quooker tap in your new kitchen or feel you would like a bit of extra advice from our expert team of designers, please give us a call on 01366 727 417 or email us at info@newroomsdesign.co.uk!
We even have a Quooker CUBE on display here in our showroom so why not book in for a demonstration?
Kitchen Design Bury St Edmunds