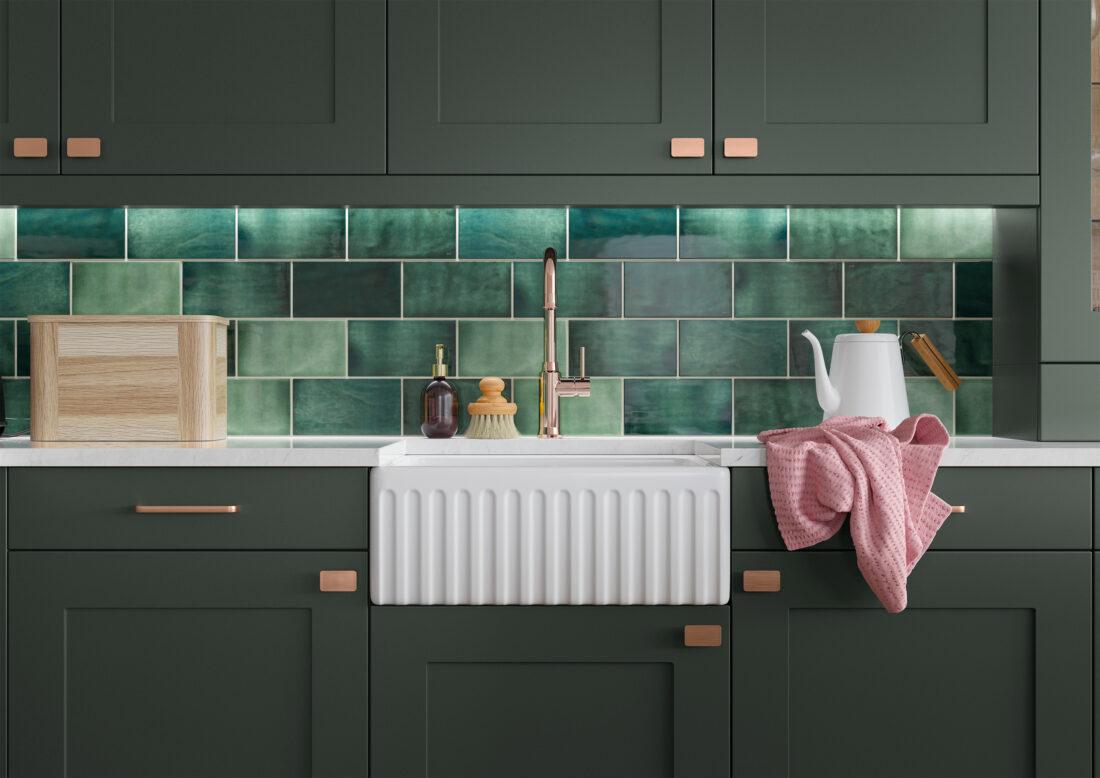 Green Kitchens – 2022's biggest colour trend
Updated for 2222, As 2021 flies by, with it comes emerging trends in kitchen design. We are seeing more and more customers come through our doors looking at green shades for their new kitchen. Read this blog post for inspiration on all things green when it comes to your new kitchen! Discover how choosing the correct colour and make your kitchen look bigger.
Green can add both a sense of luxury and drama to a kitchen. Two of the most popular shades we are seeing are sage and forest green, each offering a completely different look.
Green is a timeless colour, thanks to the variety of different shades available to suit all styles. Associated most with nature, it can be the ideal shade to bring a kitchen design to life. Even though it is early in 2022 it is emerging that the most wanted green shade is a cardamom kitchen. The latest kitchen colours if you stay on trend are Bamboo Stem and Fresh Foliage from Dulux.
Using dark shades of green in your kitchen can be tricky so needs careful planning. Due to the dark nature of the paint, it will not reflect light so can make a room feel cramped, dingy or even cold. Therefore, to succeed with your dark green kitchen all elements must balance and create a harmonious finish. Mixing in neutral and timber accessories and pieces of furniture will lighten the space. If you are drawn to painting your walls in a darker shade, keep the ceilings a crisp white to make the space brighter.
Using white marble or Minstral worktops and splashbacks, along with polished or aged brass hardware helps to offset the dark hues and reflect natural light around the kitchen. These small luxurious touches enhance the green units and add a beautiful elegance to the space.
Sage is the most popular shade of green we are seeing for 2021. Warmer than a traditional grey, a pale cool green looks stunning in a kitchen, and creates a tranquil feel for such a busy room in the house. A pale green is a great alternative to the darker forest green shades mentioned above as it will look bright and fresh and not overwhelming, particularly in smaller kitchens.
Using soft green tones for your interior will help to reflect the nature seen beyond your windows, bringing the outside in and creating a seamless feel between your garden and home. Timber elements, such as worktops and shelving, will again add warmth to the room, and make your kitchen feel homely and welcoming. White accessories, for example a beautiful ceramic butler sink, will add relief to break up the green, whilst black hardware, such as traditional iron cup handles and knobs, create a great contrast with the pale tones. One of are projects using the colour sage.
If you aren't quite brave enough to splash out on a completely green kitchen, why not use the shade sparingly on just your kitchen's island or a few cabinets across the space?
Your island is already a central focus point within your kitchen, so using a separate shade from your main cabinetry is a clever design trick to add extra interest to the hub of your kitchen.
The key to succeeding with two-tone cabinetry is to pick the perfect pairing that complement rather than over-powering eachother. Choosing neutral shades such as white, grey or a pale cream will allow the island to shine and take central stage in the kitchen.
Zesty tones of lime green as well as rich olive greens can add a retro feel to your kitchen.
A warm, olive green shade for your cabinetry can be the perfect pairing alongside dark wood furniture, bringing antiques into the 21st Century. The combination of textures and colours will give you a space that oozes warmth and comfort.
If you are feeling extra bold, these colours work particularly well with other bright shades for a truly one-of-a-kind kitchen. For example one of the kitchens below pairs Lime Green and Navy cabinets with dusty-pink wall tiles – a fantastic and eye-catching design!
If you are torn between using blue and green for your kitchen cabinetry an elegant teal, is the perfect 'in between' shade so that you don't have to compromise on either account.
Teal works great in both modern and traditional spaces and looks great if paired with white walls and cabinetry. If you are feeling bold, the kitchen below painted in Viridian uses the same shade on all the cabinets and walls which actually makes the room feel larger as the colour scheme flows throughout the space.
Has this blog post got you green with envy? If you would like to start designing your new kitchen or come into our showroom to see all the colour samples we have on offer, please give us a call on 01366 727 417 or email us at info@newroomsdesign.co.uk!
Kitchen Design Bury St Edmunds