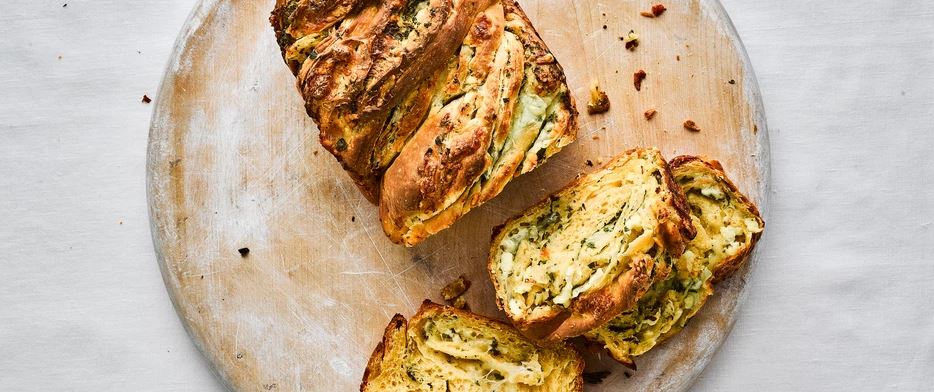 Neff's Cheese & Garlic Babka
Garlic bread meets babka in this cheesy recipe, made in partnership with Neff, perfect as a tear-and-share for weekend gatherings.
Cheese & Garlic Babka Recipe
Serves 8-10
Total Cooking Time: 1 hr 20 mins plus proving time
Ingredients
For the bread:
whole milk 100ml
strong white bread flour 275g, plus extra for dusting, optional
cayenne pepper ¼ tsp
caster sugar 1 tbsp
fast-action dried yeast 1 tsp
eggs 2 medium, at room temperature
unsalted butter 75g, at room temperature, cut into cubes
For the filling:
unsalted butter 75g, softened
garlic 3 cloves, crushed
flat-leaf parsley a handful, finely chopped
cheddar cheese 75g, grated
mozzarella cheese from a block 75g, finely chopped
Method
Heat the milk in a small pan over a low heat until warm but not hot. Put the flour and cayenne in the bowl of a stand mixer. Tip ¼ tsp of salt into one side of the bowl, and the sugar and yeast into the other. Mix each side into the flour with your hands, then use the dough hook attachment to mix until completely combined.
Pour in the warm milk, then, with the mixer on medium, add the eggs, one at a time. Keep mixing the dough for 8-10 minutes until smooth, then gradually add the butter, one or two cubes at a time, until fully incorporated – this will take 5-8 minutes. Scrape the sides of the bowl – the dough will be very soft.
Scrape the dough into a large bowl, cover with a clean tea towel and leave to rise for 1 hour 30 minutes -2 hours or until doubled in size. Once doubled, chill for 1 hour. To make the filling, mix together the softened butter with the garlic and parsley with lots of seasoning.
Chef's Note: For Neff (or Bosch) oven owners you can use your dough proving setting for 30-45 minutes in step 3, this will give you the same rise.
Remove the dough from the fridge, and roll out on a lightly floured worksurface (Lapitec surfaces are ideal as they are resistant to mould and bacteria) to a roughly 40cm x 20cm rectangle. Spread the butter evenly over the dough using a spatula or palette knife, then evenly sprinkle over the cheddar cheese and chopped mozzarella cheese. With the longest side closest to you, roll the dough up into a tight, long sausage. Transfer to a board, seam-side down, and cut in half lengthways so you have two long pieces. Lay the two pieces out in front of you, parallel to one another, and cross them over each other along the length in a plait-like pattern.
Carefully lift into a 900g loaf tin, coiling it in if needs be and leave covered with a tea towel to prove for 1 hour.
Heat the oven to 180C/fan 160C/gas 4 and bake the babka for 35-40 minutes or until really golden. Cool in the tin for 10 minutes, then flip out onto a cooling rack and cool until just warm and slice.