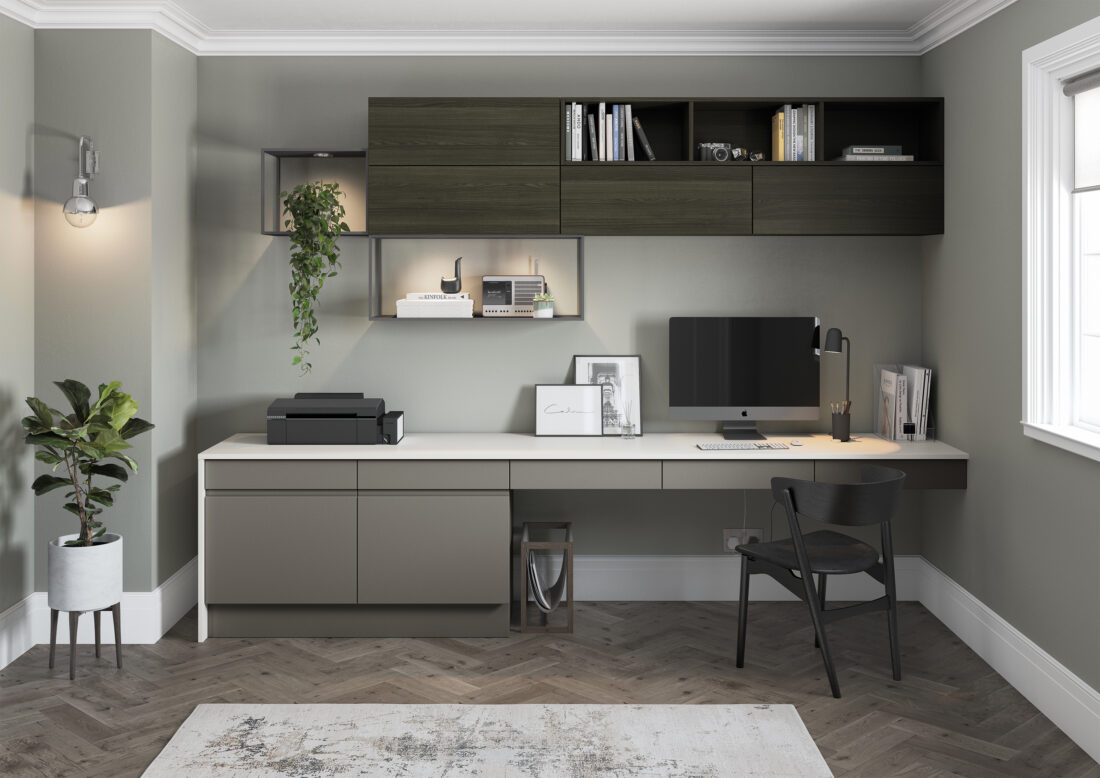 Home Office Design Inspiration
Since earlier in the year, more and more people have been working from home, with some large corporate offices looking to carry this trend on even after the pandemic is over. With this in mind, we have gathered some advice and inspiration for your own home office design.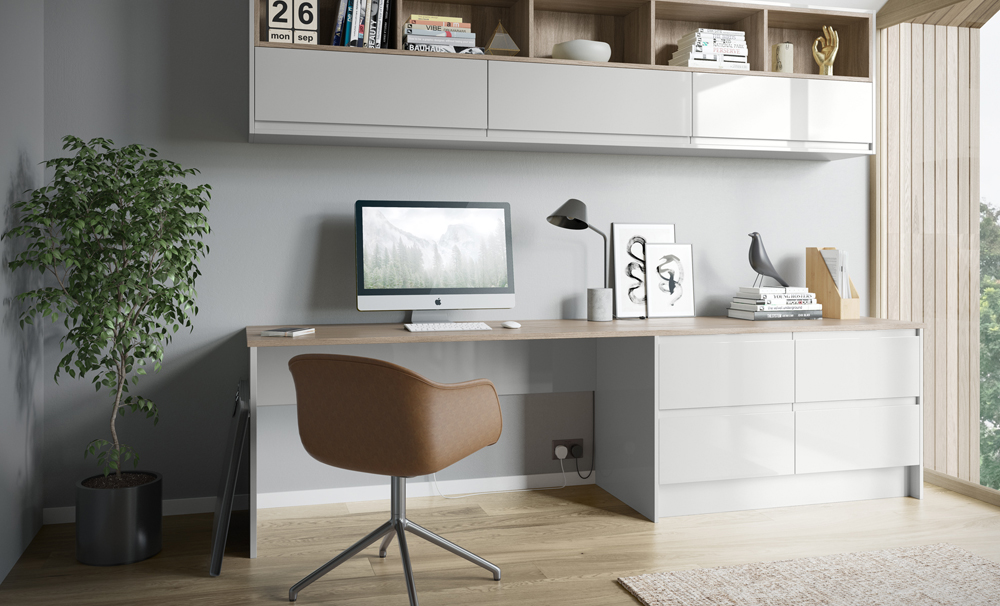 This light grey, gloss office area looks sleek and stylish with its handle-less J-pull cabinetry. The combination of a light colour, along with a gloss finish, creates the perfect canvas to reflect an abundance of natural light from the large window around the office space.
The use of exposed oak in the open shelving, worktop and flooring, warms up the grey and white colour scheme and allows a calming and cosy atmosphere to be created.
The desk itself features wide and deep drawers with built-in filing systems, allowing for easy organisation of all your office documents.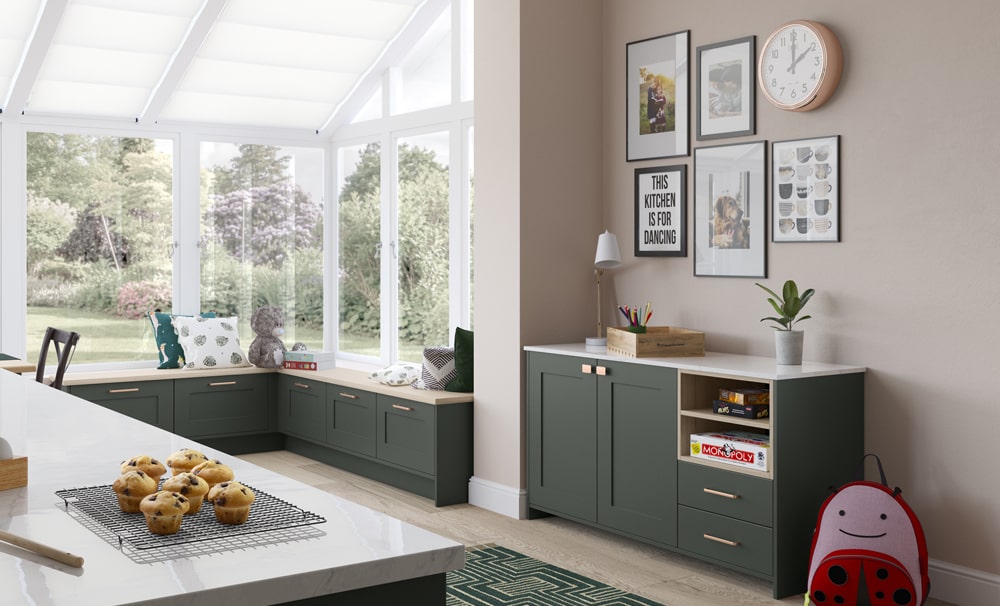 If you don't have a specific room or area that you can set aside for your office why not consider maximising your existing kitchen or open-plan living for a working zone? This versatile, open plan area created as an extension from the main kitchen, doubles as the perfect space to work from home.
The glass conservatory floods the space with natural light and allows for beautiful views across the garden as you work. The stylish Shaker cabinetry is painted in 'Deep Forest' green, complementing the nature seen in the garden beyond the window and adding soothing feel to the room.
The conservatory area features boxed window seating and a matching dresser unit which both provide extra storage to keep your working area tidy so you do not feel distracted. The window seating is also perfect for a quick tea or coffee break from all that hard work!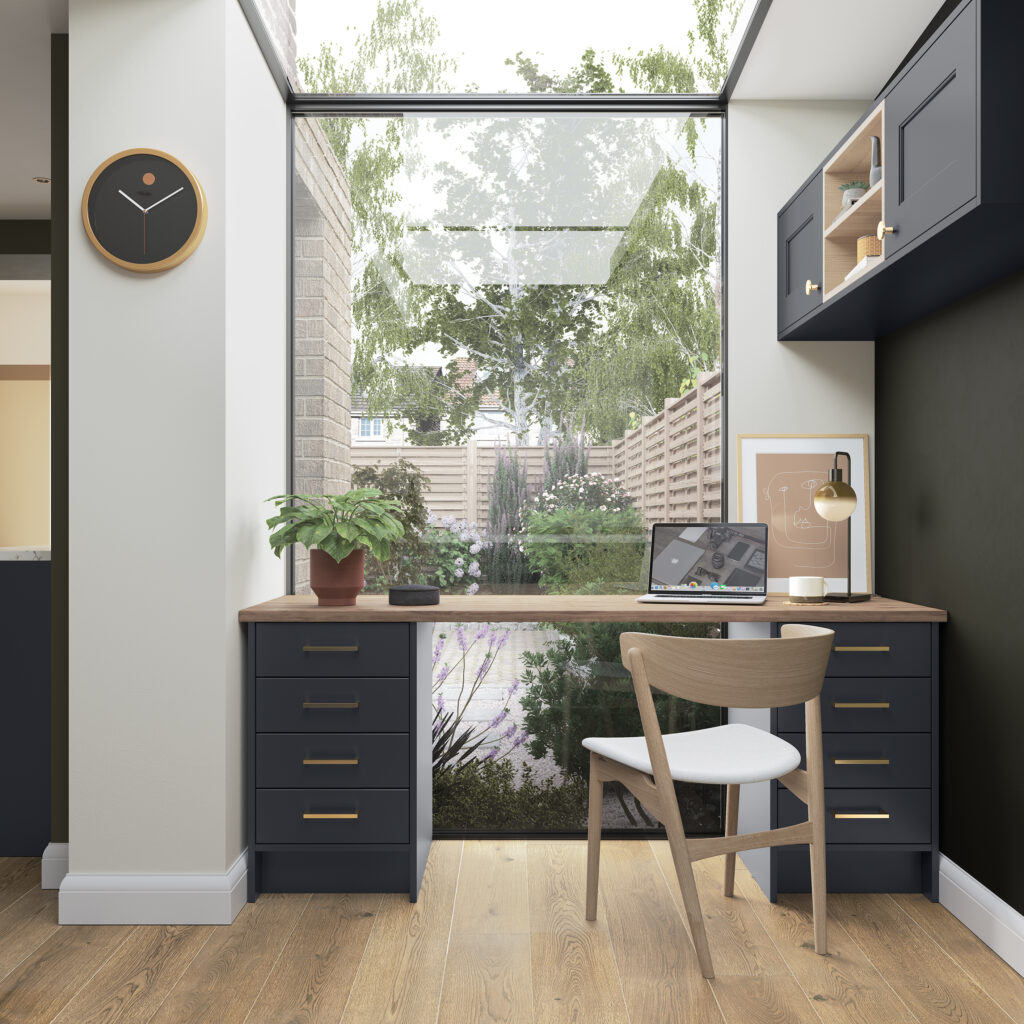 This desk inspiration is perfect for those with a smaller nook or corner that they want to turn into some useful desk space. The large floor to ceiling window provides gorgeous views of the garden as you are working, proven to be good for mental health and a positive work-life balance. This also lets in plenty of natural daylight, brightening up the use of dark navy cabinetry.
Either side of the seating space, sits four shallow drawers which means you can easily organise stationery and office essentials that otherwise get lost in deep filing drawers.
The working area has a matching cabinet sitting perpendicular on the wall above meaning that with the large window you don't have to compromise on incorporating extra storage space.
home office ideas UK four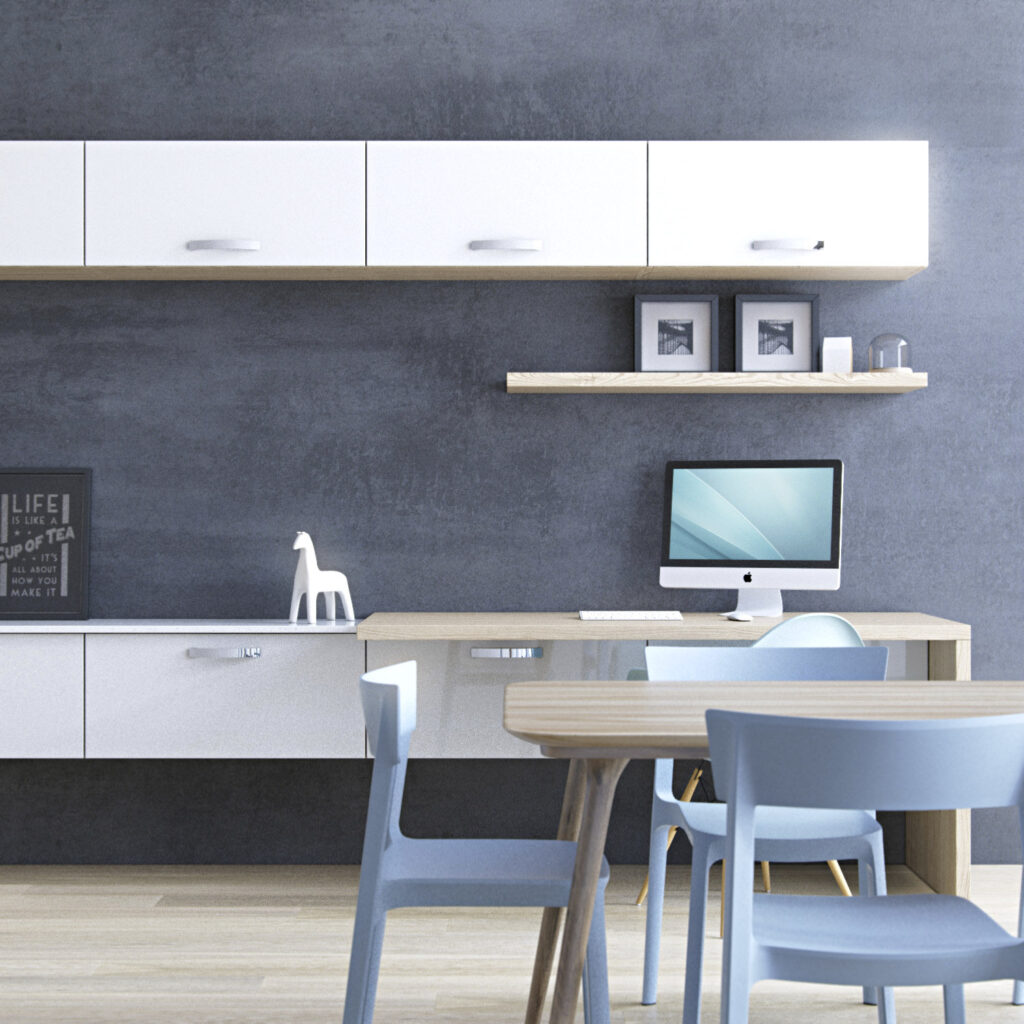 This desk extends from the clients sideboard with the stylish addition of a solid timber waterfall worktop. This worktop extends from the depth of the cabinetry providing a spacious area to sit and work.
This solution is perfect if you don't have much space in your home for a desk or office and instead want to utilise an existing piece of furniture for a new purpose.
The base cabinets consist of a row of drawers perfect for filing and storage of all your office essentials. The cabinetry style is echoed by the matching wall units above, creating a sense of symmetry in this sleek and modern design.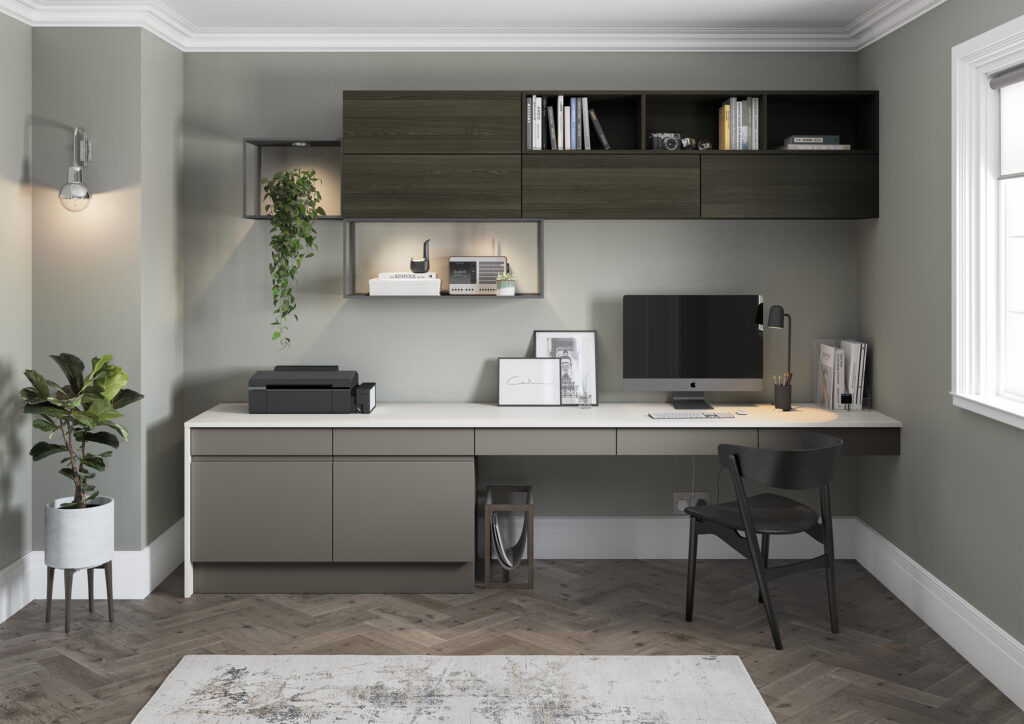 For those with a larger area to spare for their home office, this example uses modern, handleless cabinetry to create a wide and spacious built-in desk.
The desk itself creates sleek lines with a row of shallow drawers perfect for stationery. Whilst, to the left of the seating space lies a wide double cupboard, ideal for large ring binders or books.
The room uses a warm colour palette with cabinetry in 'Lava' – a warm grey with subtle chocolate undertones – and stained carbon oak wall cabinets and shelving. These are a great alternative to using blues, whites or greys as the warmth adds a calming influence to the space, perfect for an office.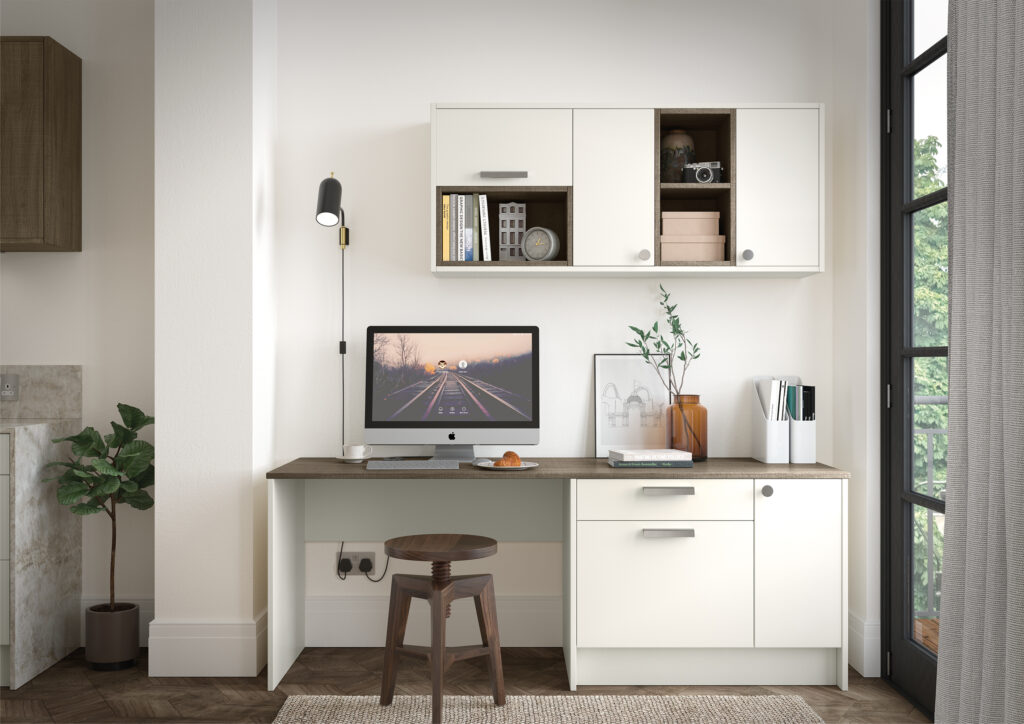 This more compact office, uses an end panel at one end to save space whilst still providing enough support for the desk's worktop. On the opposite side, handy organisation is created with both a shallow and deep drawer alongside a narrow cupboard, covering all bases for the client's office needs.
A Scandi feel is created using natural timber textures alongside minimalist cabinetry for a clean and simple look. The bright porcelain cabinetry is warmed by the contrasting use of dark stained timber for both the worktop and open shelving in the wall cabinets.
The open sections of storage provide the perfect space to display books and ornaments, allowing you to fully personalise your office and make it feel unique to you.
Discover the different types of kitchen breakfast bars
We hope this blog has given you some tips and inspiration for your home office! If you would like to discuss your plans or feel you would like a bit of extra advice from our expert team of designers, please give us a call on 01366 727 417 or email us at info@newroomsdesign.co.uk! Of course we had to mention kitchen design Norwich.