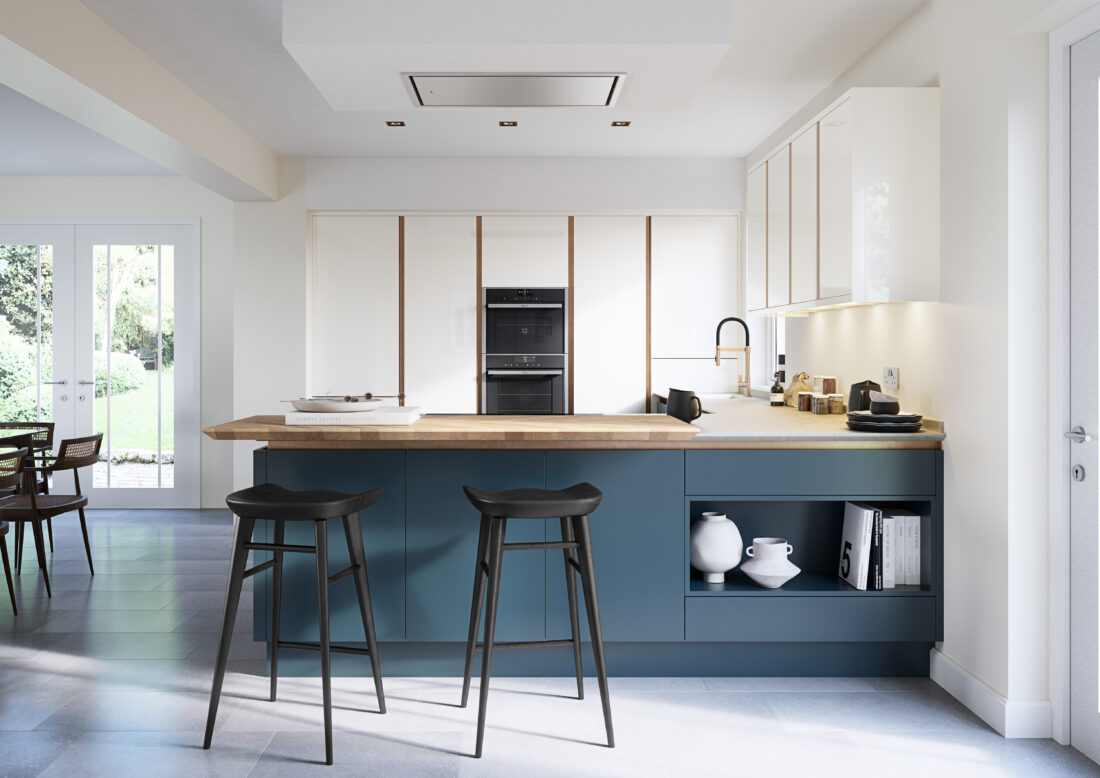 Creating an Open-Plan Kitchen – Knocking Down Walls
Knocking down internal walls can completely reconfigure your interior spaces giving you large open-plan rooms — our expert guide talks you through how to do it safely.
Knocking down internal walls is one of those jobs that is often at the forefront of the mind of renovators and prospective buyers when looking around houses. Where homes were once built to accommodate lots of smaller, separate rooms, these days we want large, open and light, multifunctional spaces — hence the popularity of knocking down internal walls. Of course once you have opened up the space you need to decide on what on trend kitchen colours it is going to be.
While the idea of knocking down internal walls seems simple enough in theory (take a sledgehammer and let loose), in reality, there are many factors to consider when it comes to opening up adjoining rooms, least of all whether the wall is load bearing and how removing it will affect the house's structural integrity.
From whether you need a structural engineer and how to identify a load bearing wall, to explaining why and when you might need a lintel and what you need to know about Building Regulations and planning permission. We've got all the answers you need to open up those spaces risk free.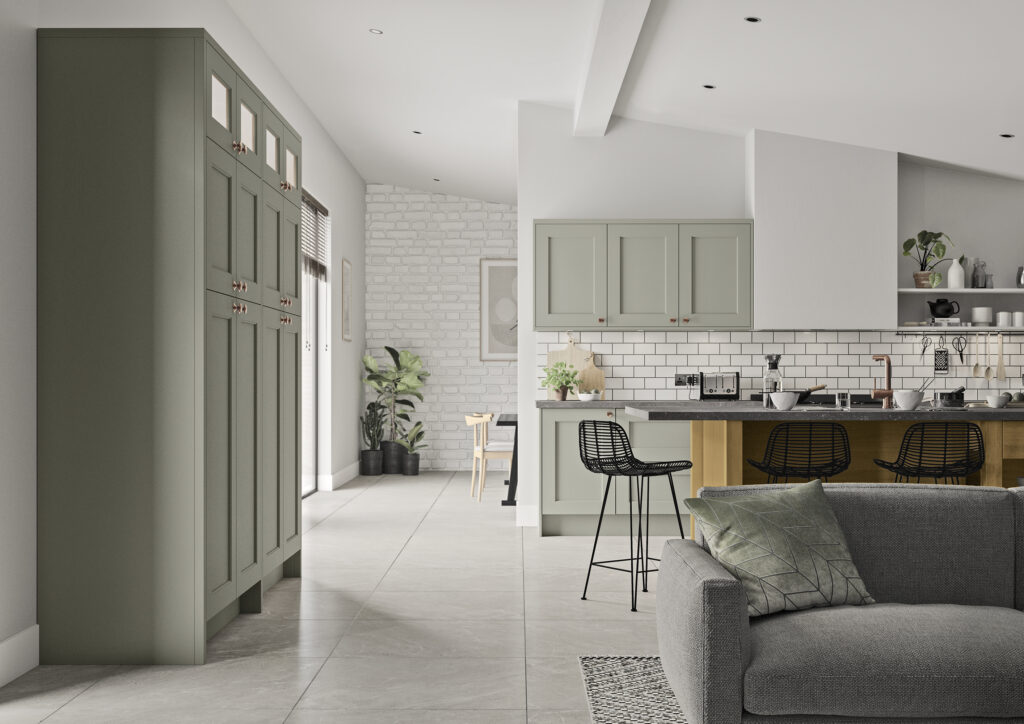 Do you need planning permission to knocking down internal walls? Not usually — this is a job that usually falls under permitted development — meaning there is no need to submit a planning application. However, if your house is a listed building you will almost certainly need planning permission.
You may well need to make a Building Regulations application too. Building control will visit you to inspect the work and, providing you fulfil the requirements, issue a certificate.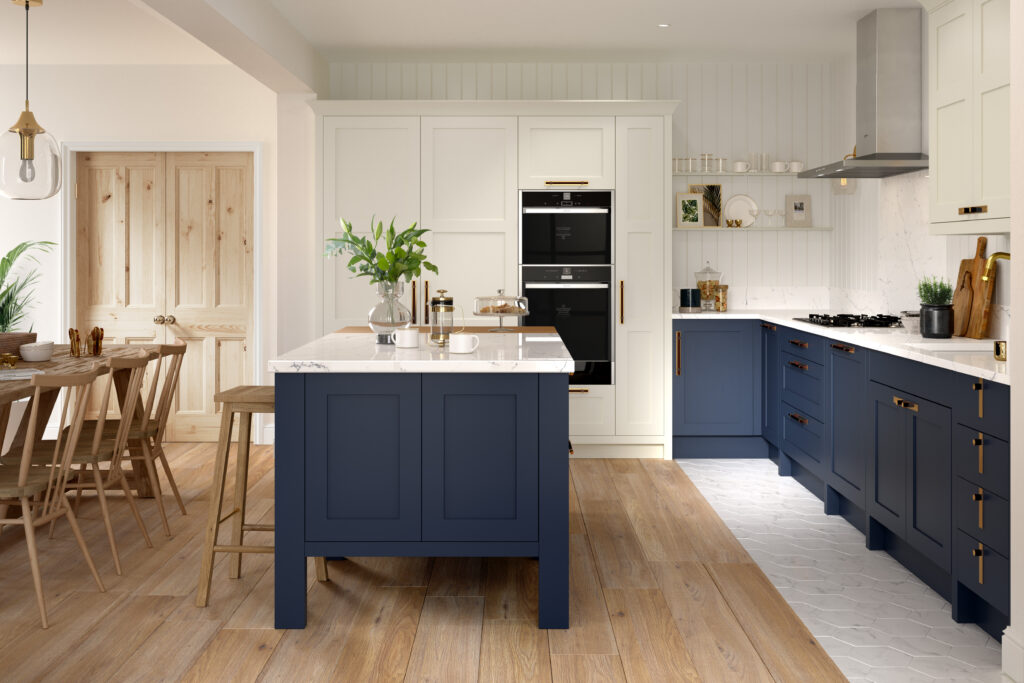 It the majority of cases, knocking down an internal wall will require Building Regulations consent, but not always.
When removing internal walls, Building Regulations will usually apply if they're providing any protection in the case of a fire. Building Regulations will likely apply to load bearing walls, chimneys, fireplaces or walls around staircases, especially in the instance of a loft conversion, for example, where the walls around the staircase offer protection, allowing you to escape in the event of a house fire.
Removing these walls would require Building Regulations consent, even if they're not load bearing.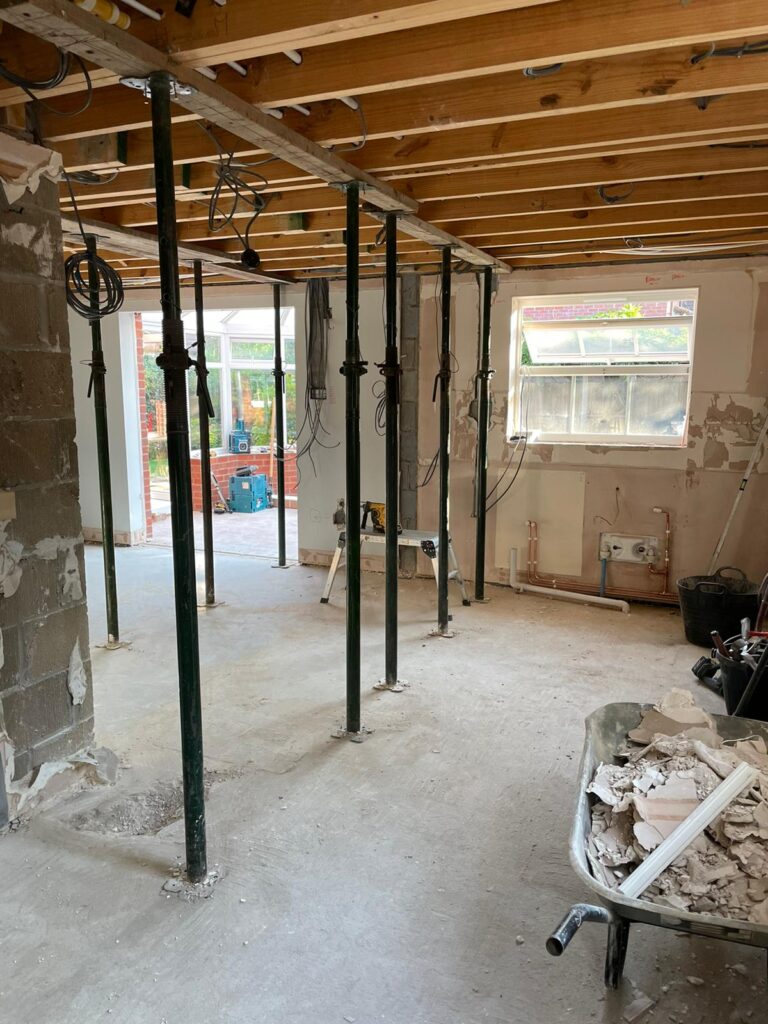 Building Control will often require you to hire a structural engineer to specify an appropriate beam or lintel, and this should be done before getting quotes from builders so they know how much to charge.
Before work begins, consider the following:
Removing internal walls creates a huge amount of dust and debris — ask your builders to put up dust screens to contain the mess
Factor in the costs of repositioning of any radiators, switches and electrical sockets
Ensure all necessary plastering and decoration to areas of exposed masonry is included in the price
Take care not to damage original features and ensure original skirting boards are retained so that everything matches when the joinery is made good
When removing a load bearing wall, the new steel beam that will take the load it once supported will have to rest on something at each end.  A small end section of the original wall (known as a 'nib') may need to be left in place
For new door openings, the upper part of the old wall will be left in situ above the new opening (known as the downstand)
In the case of many terraced or semi-detached houses, the new beams required to support the walls where walls have been knocked down may need to rest on party walls that separate your house from the neighbours'. In this case it is advisable to consult a specialist Party Wall surveyor to ensure compliance with the relevant legislation.
In some older properties, party walls are not strong enough to support any new loadings — some were only single skin (one-brick thick or about 100mm).
If this is the case in your property, it will be necessary to build new brick piers or install steel columns to support the new beam — which could mean having to excavate small foundations internally, adding significant expense and disruption.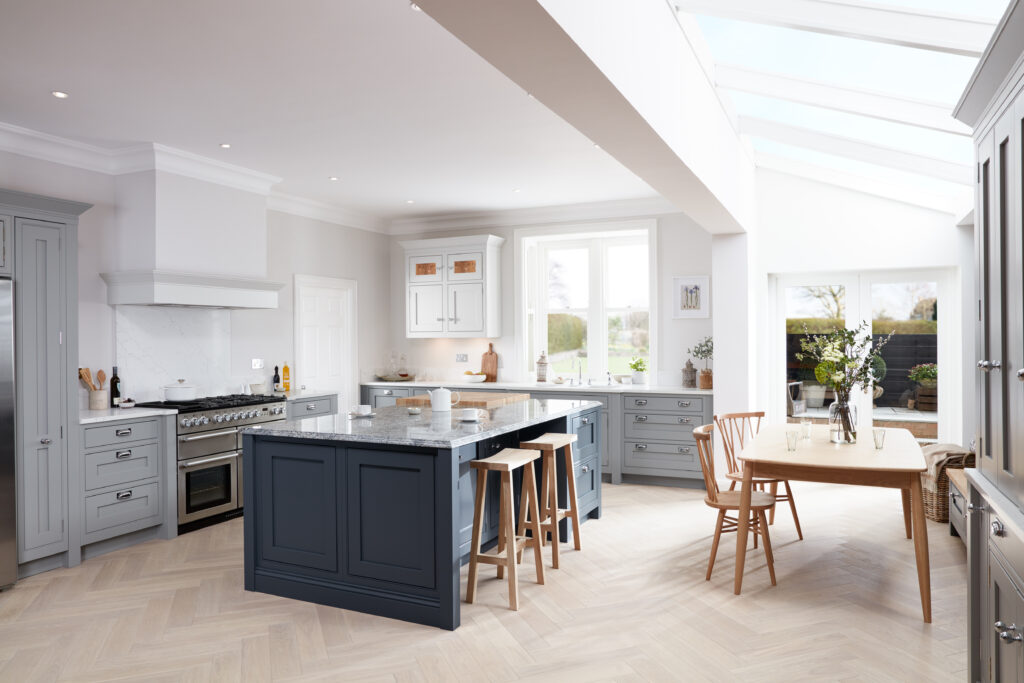 Load bearing walls play an important structural role in the construction of a house. Load bearing walls support another element of the house, such as the roof or a wall on an upper storey.
Non-load bearing walls, as the name suggests, carry no loads and are simply there to divide up the interior spaces into separate rooms — these are relatively straightforward to alter or remove, although care still needs to be taken.
It is always best to check with a builder or structural engineer before removing any wall. They will be able to tell you whether or not the wall is load bearing, supporting the weight of any of the following:
The roof: In older houses the roof structure often relies on support from an internal wall. More modern roofs with W-shaped roof trusses (introduced in the late 1960s) are designed to span right across the house from the main wall to another without internal support
The floor: Floor joists rarely span more than about four metres without support from an internal wall or beam. Look for nail runs in floorboards to identify the direction the joists are running in (usually at right angles to the direction of the floorboards)
Other walls: Ground floor walls often continue above as bedroom walls. However, sometimes upstairs walls are offset or supported on a beam. Most modern houses have lightweight stud walls to the upper floors
External walls: Some old houses rely on internal walls for 'lateral support', where the walls help to secure the external walls together.
When removing load bearing walls — where a wall above is being supported by the wall beneath— it is vital that a suitable lintel or beam or some other supporting structure is fixed above the new opening to ensure the loads are safely transmitted to the ground. A structural engineer will be able to calculate the type and size of lintel required.
Before any demolition work is started, the masonry above the wall must be temporarily supported while a slot is cut to take the new beam or lintel that will be required.
This slot will usually have to extend either side of the opening with a bearing of at least 150mm. To spread the load, additional support will be needed under the ends of the lintel. Once the lintel is in place, the new opening can be cut out underneath.
Although removing non-load bearing walls is usually a straightforward job, it is still wise to consult a structural engineer or builder before you begin.
In both cases, you will need to prepare yourself for the dust and mess that will be created.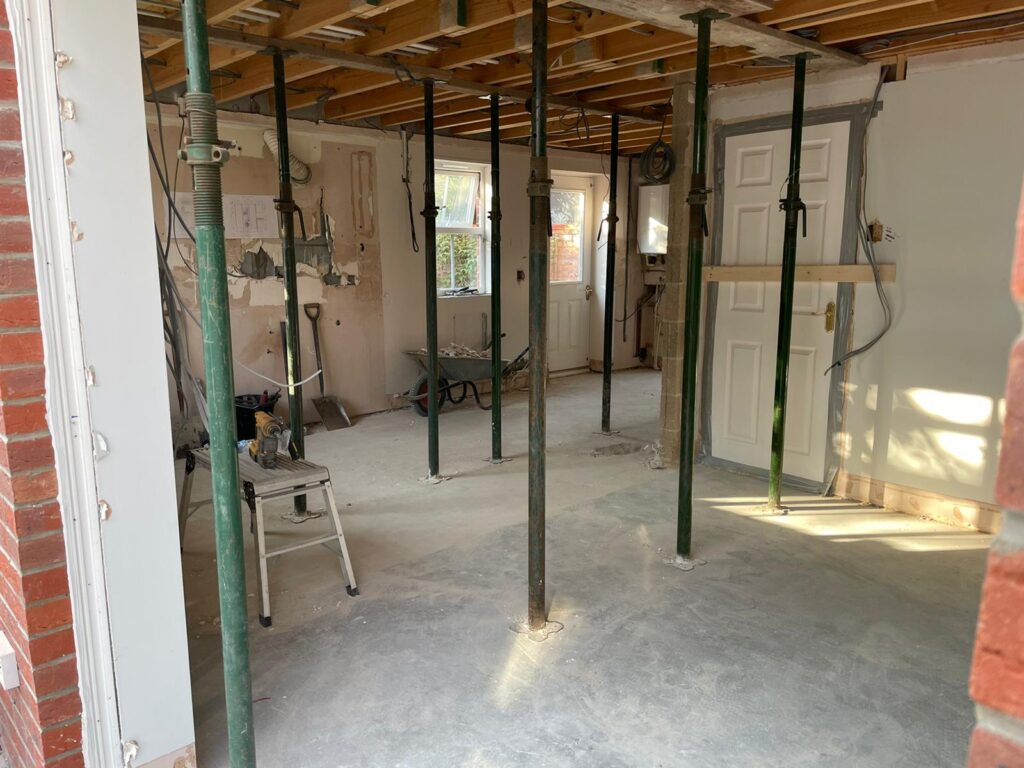 Have you considered how the ceiling will look after the wall has been removed? When an entire load-bearing wall is removed, it is important to realise that the new supporting beam will often be visible.
There are a few ways of dealing with this but steel beams do need to be boxed in with plasterboard in order to comply with fire regulations.
If you would prefer the look of a continuous ceiling, one common solution is to build a new suspended ceiling in order to conceal the beam.
You might also need to think about floor levels. In old houses, the floor heights often vary between rooms so removing an internal wall can leave it obvious that the floor levels in the newly conjoined rooms are not the same.
In the case of large differences in floor level, a split level design can become a design feature, but where the difference is small (millimetres or centimetres, for example) some floor levelling work will need to be undertaken. We can help you to choose new flooring for your kitchen, check out our kitchen flooring ideas 2022 for more inspiration.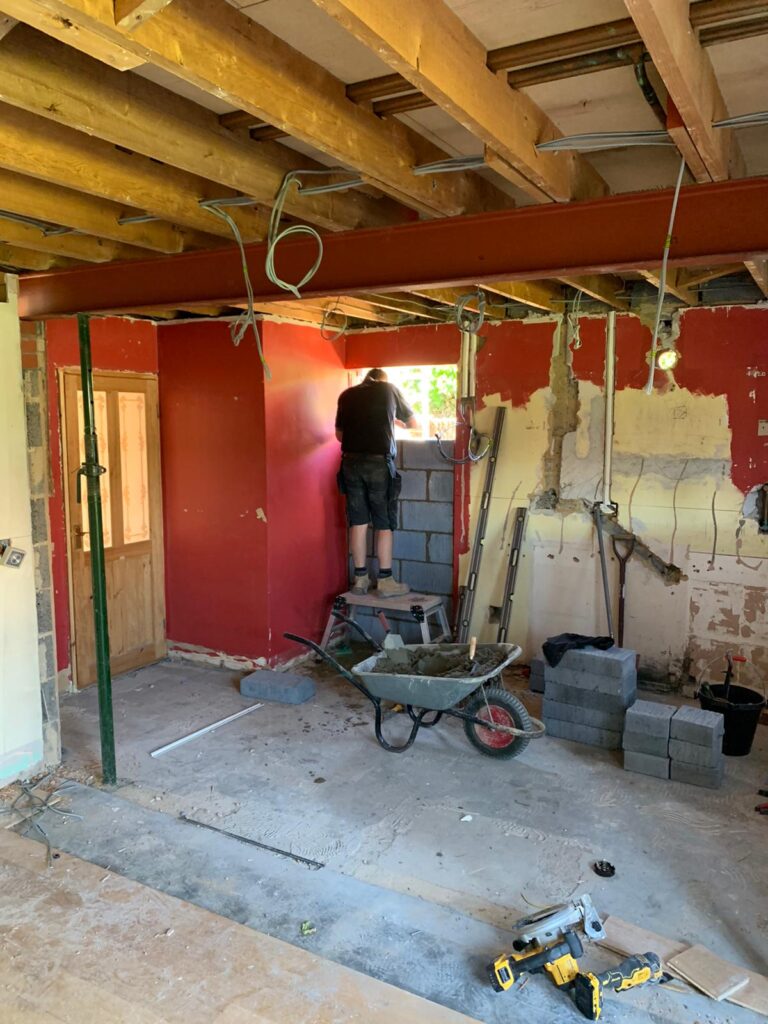 The costs of knocking down an internal wall do depend on the wall in question and who will be doing the work, However, for a 'typical' opening up project, removing a load-bearing wall of around 5m width, builders would typically quote between £1,250-£2,500 + VAT.
This usually comprises temporary support of the structure (through Acrow props and 'strong boy' masonry supports), demolition, building in of required padstones and supports for the new structural steelwork (rolled steel joist), insertion of the RSJ, fireproofing (typically one layer of fireboard or two layers of plasterboard), a skim coat of gypsum plaster and making good finishes at wall, floor and ceiling junctions.
Structural engineer's fees will cost £300-£500 + VAT.
Assuming there are no unusual structural complication, once you have all the relevant structural calculations and approvals, removing an internal wall should take no longer than a week — although obviously this will vary depending on the size of the wall, access etc.
Removing an internal wall, along with the insertion of a joist, can be done in a day or two, while plastering of the newly exposed sections of wall and boxed in joist should take no more than another day. Finally, painting can be carried out.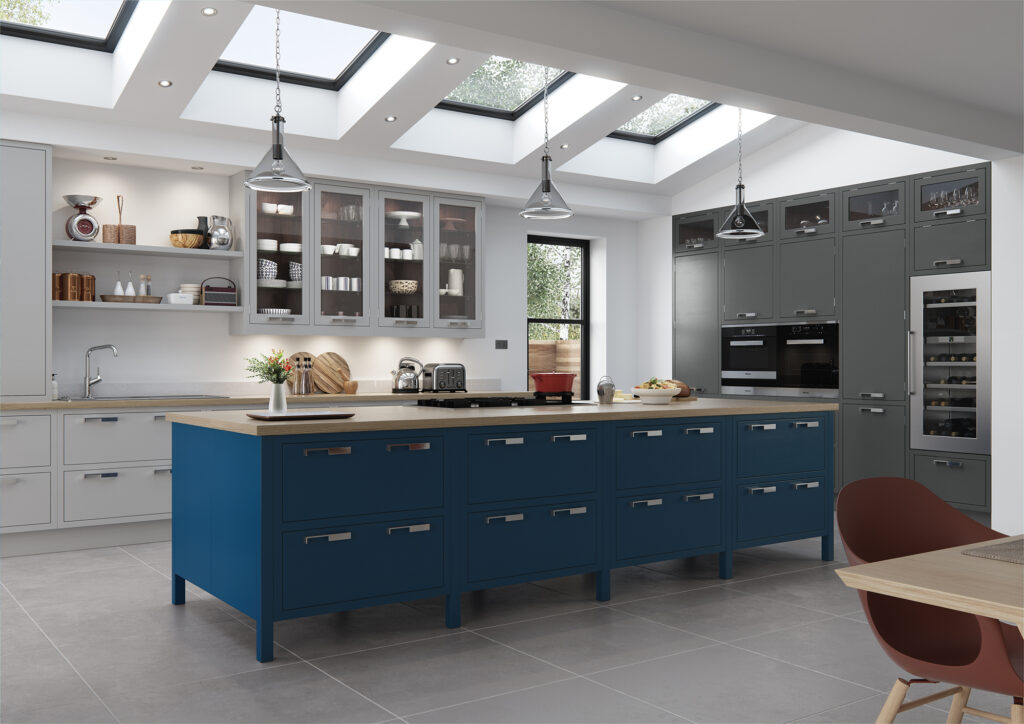 Has this blog given you some fresh ideas for re-configuring your kitchen or creating an open plan living space? Here at newrooms, we can offer full project management services to help you realise your dream design. Please feel free to give us a call on 01366 727 417 or email us at info@newroomsdesign.co.uk if you would like to discuss undertaking a project with us!
Kitchen Design Bury St Edmunds